Retailers are still not doing enough to stop the sale of knives to under 18s, new data commissioned by National Trading Standards and funded by the Home Office has revealed.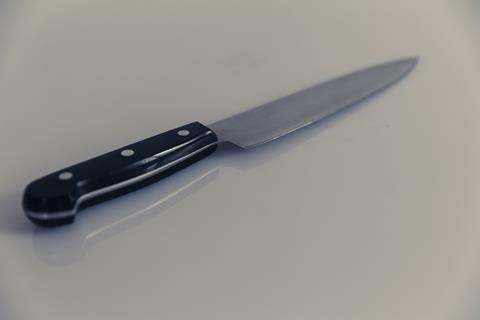 Despite recent pledges to crack down on illegal knife sales by a number of the UK's leading supermarket, discount and DIY chains, 15% of all stores tested sold knives to test purchasers under the age of 18, the data shows.
Of 2,231 tests, carried out by Trading Standards in England and Wales between 1 April 2018 and 31 March 2019, retailers failed to prevent the sale of a knife to a child on 344 separate occasions.
The stores that failed were fairly evenly split between large national chains and small independents, including DIY shops and some convenience stores, with 170 national stores having sold knives to test purchasers under the age of 18, and 174 independent stores having done so.
Of these, 114 stores were issued with a warning letter, 56 received a Primary Authority referral and 35 were prosecuted or cautioned.
Last year, a number of national retailers including the UK's leading supermarkets and discounters, plus Amazon UK, Wilko, Argos, Boots and the Co-Op, agreed to adhere to a new Voluntary Agreement including a Think 21 or Challenge 25 policy for knife sales.
Poundland, Home Bargains, Asda and Tesco sold knives to children at least 15 times each during the test purchasing activity, National Trading Standards said.
The failure rate for online retailers was even higher, with a separate programme of online test purchases revealing a 41% failure rate.
Lord Toby Harris, chair of National Trading Standards, urged retailers to maintain focus on restricting the sale of knives to children and to re-merchandise stores where possible.
"Let's be clear - it's illegal to sell a knife to a child. Our tests show that it's still too easy for a child to buy a knife in store or online. We know that young people are being cautioned and convicted for knife crime offences, and as such I urge all retailers to do more," he said.
"Do you need to sell knives? If you do, can you remove them from shelves and have them available either from a locked cabinet or via a specific till for customers, as already happens with cigarettes – where this is a legal requirement?
"Are your procedures and those of your delivery partners robust? Can you do more mystery shopping of your own to test how well your own processes are applied?
"The Trading Standards community will continue to play our part by promoting best practice, providing advice to businesses, monitoring retailers' activity and taking proportionate enforcement action. We need to make sure Trading Standards Services have enough funds to do this important work."
The Offensive Weapons Act, introduced in May, strengthened law enforcement's response to violent crime in a range of ways, including making it a criminal offence to dispatch bladed products sold online without verifying the buyer is over 18.
In 2018 B&M was ordered to pay £480,000 in fines and £12,428 in costs after selling knives to children.
In July 2019 Tool Supplies UK Limited of Heswell, Wirral, and Inifer Potter and Son Ltd of Hockley in Essex were also fined £8,000 and each was ordered to pay costs of more than £2,000.
SD International Trading Limited was fined £10,000 and ordered to pay over £2,250 in costs after pleading guilty at Croydon Magistrates' Court on 25 June 2019 to selling a knife online to a child.
NATIONAL TRADING STANDARDS KNIFE SALES GUIDANCE
Consider if you need to sell knives at all.
If you do need to sell knives, store them securely in locked cabinets behind a specific counter.
Ensure all staff are made aware that knives are age-restricted products and receive regular training and refreshers on an ongoing basis.
Operate age restricted policies: no ID, no sale.
Sign up to and adhere to the voluntary Code to restrict sales of knives to children here
Carry out mystery shopping to ensure procedures are being followed.
For more information visit