An unscrupulous retailer and his store worker, who between them have been found guilty of multiple serious offences relating to the possession and supply of illicit tobacco, have both been sentenced to jail.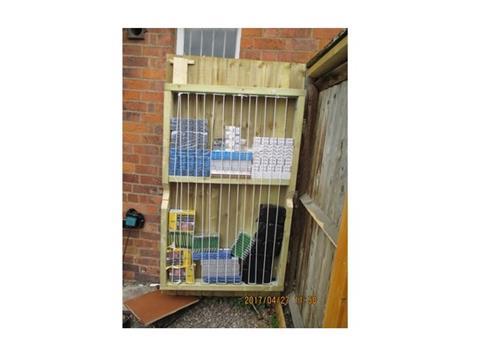 The Costless store, on Eastgate Street in Gloucester, had failed a string of test purchases and inspections in 2017, with counterfeit tobacco discovered in "Scooby Doo"- style hidden compartments including false doors and floors.
While store owner Badran Said was sentenced to 12 weeks in jail earlier this year, shop worker Sirwan Hussain was sentenced to 18 months for his part in the crime this week.
On four separate occasions in a seven-month period, Sirwan was caught in the store with counterfeit tobacco and cigarettes by trading standards officers.
Two hidden compartments containing illicit tobacco were found built into a fence on the first occasion, along with a bag of illicit tobacco in the shop. These items, worth £3,083, were seized.
A second inspection, two months later, also found Sirwan and quantity of illicit tobacco in a box at the rear of the store. All items were seized, valued at £521.
One month later, a further inspection discovered Sirwan behind the counter with a bag of illicit tobacco at his feet. This inspection also uncovered two more bags in the store room. All items were seized and the value of the seized tobacco was £834.
Two months later another inspection found Sirwan in the store, along with £692-worth of illicit tobacco hidden on a chest freezer behind a partition.
Previous inspections had also uncovered a hidden hydraulically-operated compartment beneath the shop floor, which was operated by the push of a button.
Sirwan pleaded guilty to 34 offences relating to the possession and supply of counterfeit tobacco products.
At sentencing, Recorder Llewellyn Sellick said he accepted that Sirwan was "just an employee" but said he was "an integral part of the operation" as he was fully aware of what was going on and turned a blind eye to it.
Commenting on the case, Cllr Dave Norman, cabinet member for trading standards at Gloucestershire County Council, said: "Illegal tobacco is not just cheating the tax payer, it can have serious health risks too.
"This is one of the largest investigations we have run as our officers repeatedly found illegal tobacco in the same place with the same person."