With just days to go before new Track and Trace legislation is enforced, retailers across the UK are reporting a litany of challenges with the application process for the crucial codes that they will need in order to buy compliant tobacco products from 20 May 2019.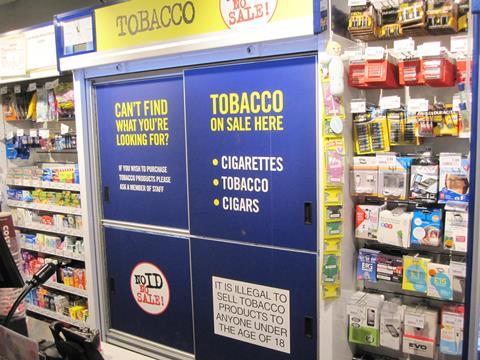 The regulations require retailers to have an Economic Operator Identifier Code (EOIC) registered to their business, and a Facility Identifier Code (FIC) for each store or premises which store tobacco.
However, retailers claim that the application process, made through the government's ID issuer De La Rue, is fraught with errors.
Mark Wilson, owner of Fryers Food Store in Nottingham, said it took him just over six hours, as well as multiple calls to the Association of Convenience Stores (ACS) helpline, to complete his single application.
"The process is a complete farce and just not fit for purpose," he told C-Store.
"It's so unclear which fields we retailers need to fill in and which we don't. Certain elements such as the excise number and global location number don't apply to retailers but there's nothing to explain that. There are no instructions. It's all trial and error, like navigating a maze in the dark. I know other retailers who are taking days to complete the process."
Bipin Haria, owner of Seaford News in East Sussex, who had still not completed the application process when C-Store went to press, was experiencing similar difficulties.
"I'm having sleepless nights over Track and Trace," he said.
"Tobacco accounts for 40% of my sales I simply can't afford to have problems with buying it in. The application process is so complicated and confusing.
"I gave up after one long-winded attempt and am hoping that my tobacco supplier Gawith Hoggarth will be able to help me. The process should have started months ago, not weeks. This tight time-scale is utterly ludicrous and frightening."
Chaz Chahal of Chahal Retail, Worcestershire, who was still awaiting the necessary codes for his four stores, also criticised the process.
"While Costcutter completed the bulk of the applications on our behalf, I completed one on my own and it was definitely challenging.
"The process is not straightforward and there's no explanation about what fields need to be filled in and what formats to use. For example, I was entering 'UK' when the pre-fix needed to be 'GB' but there was nothing to tell me that.
"Also, you have to click on the 'forgot password link' in order to create a password in the first place, which is completely backwards. It could certainly have been done better," he added.
Arif Ahmed, owner of Ahmed's News in Coventry said it took three calls to the JTI helpline before he was able to complete the process. He also criticised the fact that there was no translation help available for retailers who did not have English as their first language.
De La Rue confirmed to C-Store that "the ID Issuer portal and supporting material is in English only".
The ACS told C-Store that it had been "inundated with calls from retailers" since the application process went live for all stores on 30 April.
Chief executive James Lowman said: "The level of confusion retailers are experiencing is inevitable given the rushed and poorly designed process overseen by the government.
"The three top questions we are getting from retailers are: issues with login username and password, confusion about details needed to apply and how to get facility identifier code FIC(s)."
Bestway, which offered to submit applications on behalf of retailers, has so far received more than 5,300 requests for it to do so.