Just weeks before new Track and Trace laws designed to bring the illicit tobacco trade to heel are introduced, a fresh spate of retailers and individuals have been prosecuted for the crime.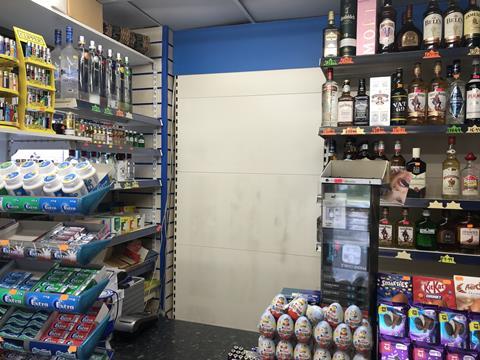 The owner of Queensgate News in Burnley was given a suspended sentence and ordered to pay costs of over £1,000 after being caught selling illicit tobacco for the third time – an offence which under the Track and Trace regulations set to be introduced on 20 May, could also result in a retailer losing the legal ability to buy tobacco if caught within a 12-month period.
The store's tobacco gantry was also ripped out by JTI earlier this month, along with the gantries of stores in Epsom in Surrey and Willesden Green in London, taking the total number of gantries removed by JTI to 38.
Officers had seized over 500 illegal packets of cigarettes and 164 packs of rolling tobacco from Galaxy News in Willesden Green last year.
The store owner claimed to have bought the tobacco for £1,700 from an unknown salesperson.
He was fined £2,400 and ordered to pay court costs of £1,376 to Brent Council, as well as a victim surcharge of £40.
The owner of Save & Smile in Epsom was also ordered to pay fines and costs totalling £2,160 after sniffer dogs uncovered a stash of illicit cigarettes and tobacco hidden in crisp boxes.
Commenting on the gantry removals, JTI UK head of corporate affairs Charlie Cunningham-Reid said: "These retailers must have thought that selling illegal tobacco would have little downside.
"However, on top of the penalties handed out by the courts, these retailers have now lost their gantries and any future support from JTI."
The retailer prosecutions come as a man involved in one of the largest illicit tobacco manufacturing operations ever discovered in Norfolk has also been jailed for his part in the crime.
Ping He was sentenced to 12 months imprisonment after he pleaded guilty at Norwich Crown Court to five counts concerning the manufacture and possession of counterfeit tobacco products.
He had been caught as part of a raid at a house in Norwich where thirty large bin bags of loose tobacco – weighing more than 700kg were discovered last year.
A further seven black bin bags containing loose tobacco along with boxes of empty Golden Virginia and Amber Leaf pouches, duty stamps and clear cellophane wrappers were also found in the garden shed.
Masks, potassium sorbate, vinegar, vanilla flavouring and a spraying machine were also discovered, along with seven boxes filled with sealed bags of counterfeit Amber Leaf and Golden Virginia, ready for supply.
With an estimated retail value of £300,000, the haul was one of the largest ever to be uncovered by Norfolk Trading Standards and large enough to be considered a manufacturers' distributive quantity.
Sentencing Ping He to twelve months imprisonment, Her Honour Judge Moore also noted that he was in the UK illegally, before advising that her sentence allowed a deportation order to be pursued.