The first One Stop franchisees are deciding on whether to re-sign to the format as the Tesco-owned chain marks the fifth anniversary of its franchise operation.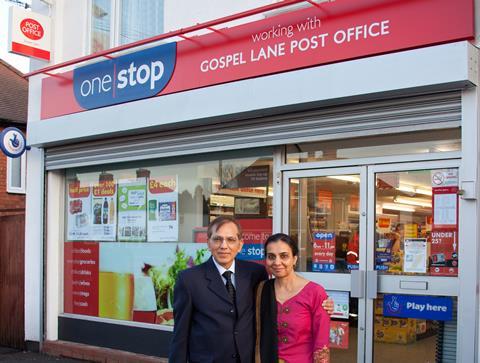 One Stop currently has over 180 franchise stores and over 750 company-owned stores in its portfolio.
Shelley Goel, co-owner of One Stop Gospel Lane in Birmingham, and one of the first franchisees, is set to sign up for another five years.
"One Stop made us much more efficient. Every four weeks our business manager comes, and we look at what is doing well and what isn't and we can check this all against actual data. If items are not selling, we delete them and try something else. It's more ruthless now but we don't want stuff sitting on the shelf not earning us money," he said.
"In the next five years I don't have to worry about competition and what my neighbour is selling things for as I know the prices we have are always very competitive."
Sunder Sandher, owner of One Stop Royals in Leamington Spa, is also planning to sign up for another five years after switching from Londis in 2014.
"It is the best move I ever made. Some retailers don't like the word franchise and think they don't have control. You still get all your local products from outside and it just makes life easier with things like automatic ordering," he said.
"The biggest thing is being a part of a strong One Stop brand. The majority of our customers love it and everything has increased since day one. The only negative thing I would say is that Epos was not that in depth for data, but all One Stops are having new Epos' around September."
Jeeta Bhadal, owner of One Stop Woodhouse in Leeds, is currently in his fourth year under the format, but expects to sign up for five more years on the basis of a "healthy turnover".
"My five years isn't quite up yet, but I imagine I'll sign up to five more. I am comfortable with the new format and how it is going," he said.
"There have been ups and downs, as you would expect with any new franchise. As time has gone by it has evolved and still is evolving. Prices are still competitive and we get good enough margin out of it. It helps me have a competitive edge with the competition in the market and in the local area."
One Stop business development manager, Sunil Kumar, said: "We've continuously evolved the model since we launched the pilot to keep ahead of the competition and we offer market leading promotions, advanced technology, continual support and guidance, all of which is backed by a great retail environment. We take time to listen to our franchisees, as this helps us too."