A new One Stop franchise store has opened in Bridgend, Wales, on the site of a former labour club within a housing estate.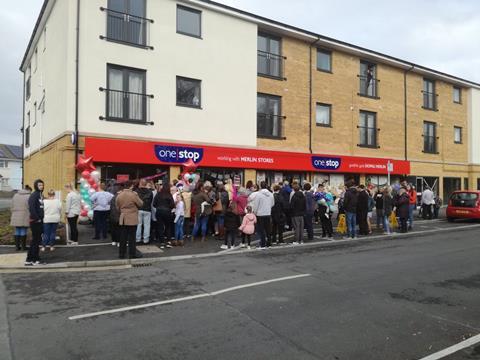 The store was officially opened on St David's Day, 1 March, by local celebrity Wynne Evans, the Welsh tenor and star of BBC Radio Wales and the Go Compare adverts.
New franchisee Paul Thomas said: "We opened on St David's Day so we had local Welsh food, inflatable daffodils and Welsh flags.
"With Wales heading for the Grand Slam it gave the store a sense of identity which is valuable to this community, who are passionate about their heritage. It was great to have Wynne Evans officially opening the store and give the day a little something extra!"
One Stop franchise operations controller Taranjit Dhillon said: "This was a cold start store and was one of the best I've ever seen. Customers filled the aisles and there were queues all day with people buying, so much so that we started to sell out! The trading figures were phenomenal."
The store has been 'future-proofed' and includes a full range of chilled alcohol and promotions, Paul said.
"The feedback we're getting from customers is they're absolutely delighted with the store, with its new fresh look and amazing range they're incredibly pleased we're now in their area," he added.
"I was really impressed at how quick the refit was, going from a concrete shell to a fully fitted store in just three weeks. I had my doubts, but the team knew exactly what they were doing, and everything just came together."