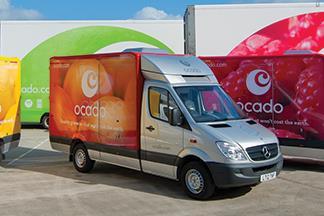 Ocado is launching Zoom, a new delivery service which promises to deliver groceries to customers within 60 minutes of ordering.
The service, which currently delivers groceries for Waitrose, is first being launched in London and has been developed in partnership with Stuart, a delivery platform specialising in same-day and on-demand delivery.
This service is designed to be one of the fastest on the market, rivalling the likes of Amazon Prime Now which offers same day, two hour delivery windows.
David Saenz, chief operating Officer at Stuart said: "We are thrilled to be partnering with industry leader and innovator Ocado on Zoom and are excited to be enabling faster grocery delivery at such a pivotal time for this industry.
"By bringing together both companies' cutting-edge technologies, we have built a service which facilitates the grocery shopping experience and gives consumers quicker and more flexible access to grocery shopping, matching their own fast-paced lives.
"This sector is quickly evolving and we are excited to be at the forefront of it."
Last month Ocado revealed that it was to start delivering groceries for Marks and Spencer from September 2020 when its current deal with Waitrose expires.