Amazon is sponsoring 10 new pop-up stores across the UK to give more than 100 small businesses a physical high street presence for the first time, in response to government calls for new ideas to inform the Future High Streets strategy.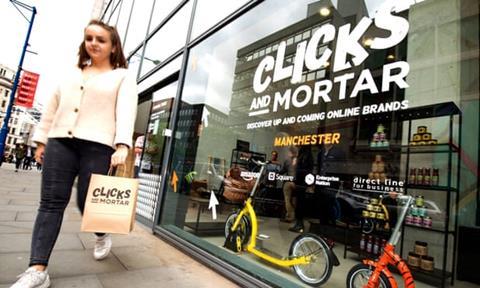 The first so-called Clicks and Mortar store has launched in central Manchester today, with traders including beetroot sauce producer Foraging Fox and peanut butter brand Pic's.
Stores will be also opened in Wales, Scotland, the Midlands, Yorkshire and a number of locations in the South East of England, with the aim of stocking a range of products, including food, drink, homeware, health and beauty products and electronics. Businesses will pay a nominal fee to trade in the Clicks and Mortar stores, with most of the costs covered by the sponsors.
An independent research consultant has been commissioned to produce a detailed analysis of the impact of the year-long pilot, and will submit its findings to the government following the call for new ideas to inform the Future High Streets strategy.
Amazon is sponsoring the pop-up stores in partnership with small business support provider Enterprise Nation - which is managing the initiative - as well as Direct Line for Business and Square.
Enterprise Nation founder, Emma Jones, said: "UK shoppers like to shop both online and in high street stores, and our intention is to help small businesses succeed by combining the best elements of online and high street retail. This new concept will provide small businesses with the space, technology and support to experience physical retail for the first time, while enabling customers to discover new brands on their local high streets."