Network Rail has introduced sustainability badges for retailers operating on its premises, as part of its ambition to be a market leader in sustainability.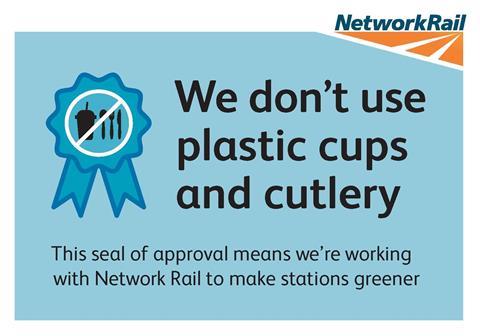 Seal of approval sustainability stickers are being rolled out across Network Rail's managed stations, highlighting retailers' eco credentials, such as bans on plastic cups and cutlery.
Network Rail has committed to banning retailers from supplying plastic cutlery and cups, implementing a coffee cup recycled scheme, and expanding the roll out of coffee ground recycling in managed stations by the end of 2020.
Network Rail chief executive Andrew Haines said: "We are committed to making stations greener and as part of that commitment, we want to be transparent about sustainable practices in our stations.
"We have put passengers and their values at the heart of this new scheme and hope that the seal of approval will go some way to making it easier for them to shop sustainably in our stations."
Earlier this week Network Rail revealed that kike-for-like sales through retailers in Network Rail stations had grown for the eighth year in a row.
On-the-go food and small purchase offers helped to drive sales, with grocery up 3.69%, bakery up 6.94% and coffee up 3.93%.