Minimum Unit Pricing has contributed to the lowest alcohol sales per adult in Scotland since 1994, according to the Scottish government, but independent retailers are reporting higher margins since the legislation was introduced last year.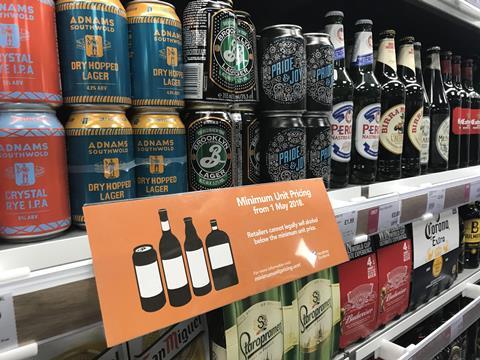 Alcohol sales per adult fell by 3% year on year in 2018, the first official analysis of data since a minimum 50p per unit price was introduced in May 2018 has revealed.
The volume of alcohol sold per adult in Scotland, compared to England and Wales, represented the smallest gap since 2002, according to the NHS Health Scotland Monitoring and Evaluating Scotland's Alcohol Strategy (MESAS) programme.
Health secretary Jeane Freeman said: "This is a promising start following our world-leading action to introduce Minimum Unit Pricing, and with this 3% fall we are moving in the right direction."
But independent retailers contacted by C-Store said that alcohol sales remained steady, but they were benefiting from higher margins as customers who previously bought super-strength ciders and beers were trading up to more expensive and higher-margin lines.
Wilson Rea, owner of KeyStore More, Lanark, said: "There's been no difference in sales, but some of my shoppers have stopped buying rocket fuel and are buying standard alcohol lines, so I'm benefiting from better margins.
"Minimum Unit Pricing has left us with a level playing field – it's been good for convenience. Supermarkets can't offer alcohol as a loss leader anymore."
Mo Razzaq, of Family Shopper Blantyre, said: "Sales may have gone down in supermarkets, but not with us, and margins have gone up. People are moving to more expensive lines."