Spending on seasonal products and the warm Easter weekend helped to drive sales across the grocery sector as a whole, but the big four supermarkets did not have things all their own way in the past three months, according to Nielsen.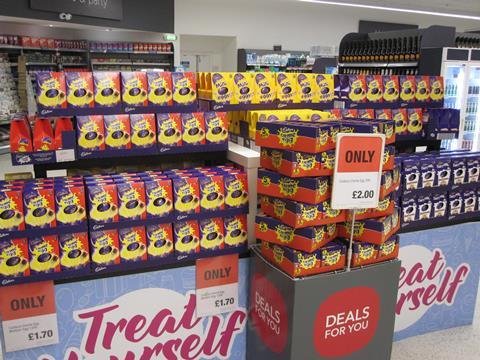 Nielsen's latest data indicates that over the 12 week period in the run-up to Easter, all retailers - aside from Sainsbury's - experienced growth, with Aldi and Lidl maintaining their double digit growth and combined market share of 16%. Retailers with smaller stores, such as the Co-operative (+3.5%) and Iceland (+4.5%), continued to outperform the average market growth, whilst food and drink sales increased by +1.6% at Marks and Spencer, which is the company's best performance since the summer of 2018.
Mike Watkins, Nielsen's UK head of retailer and business insight, said: "Easter has traditionally been a time of year when the big supermarkets capture more of the incremental spend, however, as shoppers continue to shift spend away from the 'big four' (Tesco, Sainsbury's, Morrisons and Asda), their combined market share fell to 64% in the last 12 weeks."
Consumer spending in the grocery sector increased by +5.9% for the four weeks to 20 April, the highest level since the late Easter in 2014 and the summer heatwave of 2013.
Watkins continued: "The unseasonably warm weather, coupled with Mother's Day and the late Easter bank holiday weekend, all contributed to the improvement in sales growth. For the week ending Easter Saturday (20 April), overall sales peaked at +15%, as shoppers bought into attractive seasonal offers that complemented the warm weather.
"While shoppers are still looking to get the best value for money for their weekly groceries, they are also still prepared to indulge in affordable treats in order to make the most of long weekends, and enjoy the warm weather with friends and family. There was stronger performance in the last four weeks, where British shoppers spent £213m on Easter eggs, £49m on fresh lamb, £136m on cut flowers and £41m on Prosecco."
Source: Nielsen Scantrack Grocery Multiples