Link must cancel the next planned cut in interchange fees for cash machine operators, in a bid to secure long-term access to cash, the Scottish Affairs Committee's new report on Access to Financial Services says.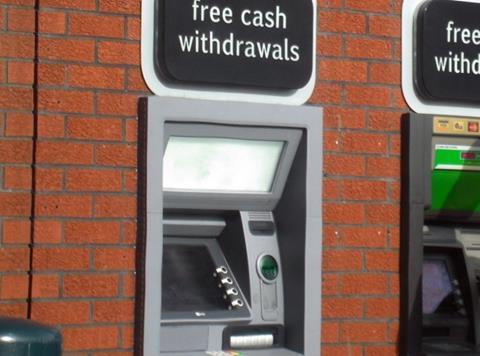 Link cancelled its January 2020 cut and postponed the planned 2021 cut, pending a review on the impact of the 2018 and 2019 fee reductions.
In 2018 the number of ATMs in Scotland fell by 355, of which 225 were free-to-use, with ATM operators citing changes to how the Link network is funded as one of the main reasons for the closures.
"We are concerned by the ATM closures that have been seen since the interchange reductions were introduced," the report says.
"We do not believe that the fourth interchange reduction should go ahead and call on the government to intervene to prevent further reductions if necessary at least until the government publishes a strategy outlining the steps it will take to ensure Scottish consumers' continued access to cash."
The report also calls on the government to seek a commitment from banks that they will not leave any town in Scotland without a bank branch.
It also suggests that the government should consider introducing legislation to prevent closures and ensure access to essential banking services, if banks refuse to make this commitment.
Welcoming the report, Scottish Grocers' Federation policy and public affairs officer Luke McGarty said: "The closure of the last bank in town, cuts to the interchange fee and ATMs being shut down are impacting on the ability of Scottish convenience retailers to do business and to serve their local communities.
"The effect of the 'war on cash' also extends to customers given that 76% who shop at Scottish convenience stores still prefer to pay by cash."
The Association of Convenience Stores, which had also highlighted the importance of cash to local shop customers in its submission, also cheered the report.
Chief executive James Lowman said: "Convenience stores play an essential role in providing access to cash through ATMs, with bank branch closures resulting in many stores being the only place where local people can draw out money.
"Interchange fee cuts and the high cost of business rates have left some retailers with machines that have been switched from being free to use to a charged model which are unpopular with customers and unfairly penalise those who rely on cash every day."
Recent years have seen a rapid decrease in banking infrastructure in Scotland and in people's ability to access cash and other banking services, according to the report.
This has mirrored a wider trend in decreased cash usage across the UK and has raised concerns about the ability of vulnerable groups and those living in isolated or rural locations to continue to have access.