The Home Office has allocated funding for 6,000 new police officers in England and Wales for 2020-21 as part of a drive to increase their ranks by 20,000 over the next three years.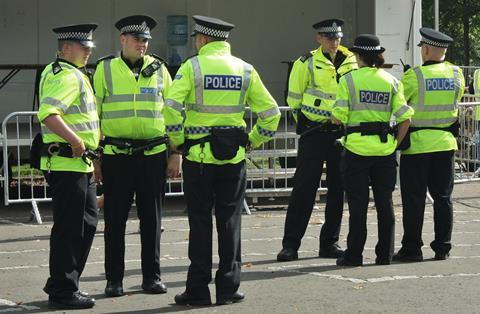 The funding, originally announced by the chancellor in the spending review, has been spread across 43 police forces, with greater funding granted for areas most in need of additional police support.
The Met Police has been allocated the largest share of funds, allowing for the recruitment of an additional 1,369 officers, while Warwickshire received funds for just 41 additional officers - the lowest regional number - over the same period (see table below).
All officers recruited as part of the 20,000 uplift will be additional to those hired to fill existing vacancies.
They are also on top of the extra officers already being recruited because of the £1bn increase in police funding for 2019-20, which includes money from council tax and for serious violence.
Announcing the allocations, home secretary Priti Patel said: "The public are clear they want to see more police officers on their streets, whether they live in the city or the countryside.
"This is the people's priority and it is exactly what the government is delivering. Every single police force in England and Wales will be able to recruit additional officers this year to help keep all of our communities safer."
| | |
| --- | --- |
| Police force area | First year recruitment target |
| Avon & Somerset | 137 |
| Bedfordshire | 54 |
| Cambridgeshire | 62 |
| Cheshire | 90 |
| Cleveland | 72 |
| Cumbria | 51 |
| Derbyshire | 85 |
| Devon & Cornwall | 141 |
| Dorset | 50 |
| Durham | 68 |
| Dyfed-Powys | 42 |
| Essex | 135 |
| Gloucestershire | 46 |
| Greater Manchester | 347 |
| Gwent | 62 |
| Hampshire | 156 |
| Hertfordshire | 91 |
| Humberside | 97 |
| Kent | 147 |
| Lancashire | 153 |
| Leicestershire | 89 |
| Lincolnshire | 50 |
| London, City of | 44 |
| Merseyside | 200 |
| Metropolitan Police | 1,369 |
| Norfolk | 67 |
| North Wales | 62 |
| North Yorkshire | 58 |
| Northamptonshire | 57 |
| Northumbria | 185 |
| Nottinghamshire | 107 |
| South Wales | 136 |
| South Yorkshire | 151 |
| Staffordshire | 90 |
| Suffolk | 54 |
| Surrey | 78 |
| Sussex | 129 |
| Thames Valley | 183 |
| Warwickshire | 41 |
| West Mercia | 93 |
| West Midlands | 366 |
| West Yorkshire | 256 |
| Wiltshire | 49 |
| England and Wales total | 6,000 |