Violence in the retail sector has reached "epidemic proportions" and is resulting in staff suffering with post-traumatic stress disorder more commonly seen in the armed forces, according to a hard-hitting report calling on the government to urgently protect employees.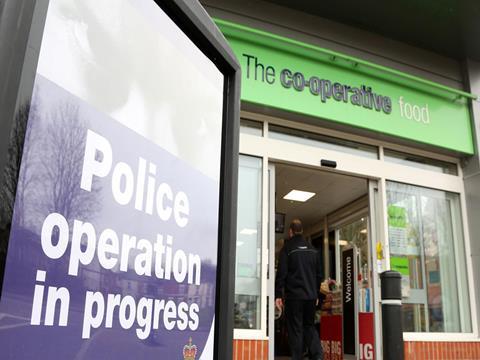 According to the report by criminologist Emmeline Taylor and commissioned by the Co-op Group, the strain of constant abuse and fear of physical violence is causing some shop workers to change their shift pattern, their place of work or, in the worst cases, terminate their employment entirely.
The 'It's not part of the job' report revealed that the four main causes in which violence and abuse are becoming prevalent are encountering shoplifters, armed and unarmed robberies, enforcing legislation relating to the sale of age-restricted goods and other prohibited sales and hate-motivated incidents.
According to the Association of Convenience Store (ACS) 2019 Crime Report, crime against convenience retailers cost the sector an estimated £246m over the last year, with over 10,000 incidents of violence reported.
Emmeline Taylor said the government and communities could work together to further prevent retail crime.
"Multiple data sources show that the frequency and severity of violence towards shop workers is increasing. Often ignored as 'retail crime' and therefore somehow victimless, let's not forget that behind each and every statistic is a person who has directly experienced violence or verbal abuse while simply doing their job," she said.
"The accounts provided in this study by victims highlight that more needs to be done to protect shop workers.
"There are several actionable recommendations for the industry, government and communities that, if implemented, I believe will begin to reverse the upsurge in violence occurring in our shops. But tackling violence requires long term meaningful investment in communities coupled with an effective criminal justice system that works to address the root causes of crime. Violence is preventable, not inevitable."
The Co-op Group has invested over £70m in the installation of remote monitored CCTV, communication headset devices rolled-out to all front-line colleagues and targeted deployment of SmartWater Fog Cannons as part of its Safer Colleagues, Safer Communities campaign.
Co-op Food ceo Jo Whitfield said: "Nothing is more important to me than protecting our colleagues at the Co-op. I've worked in retail businesses for more than 20 years and I've never seen such high levels of violence and abuse. And it's having lasting effects on the lives of workers, both mentally and physically. It is not part of the job to be verbally abused, threatened or attacked.
"We're determined to make sure it isn't and in addition to industry-led initiatives, the sector needs government action to stem the tide of abuse against shop workers and address the underlying causes that are known to result in violence. We hope the report's recommendations force the Government, businesses, law enforcement and trade unions to act together to develop a strategy to protect all shop workers."
The Association of Convenience Stores (ACS) chief executive, James Lowman, added: "This is an important report that highlights the need for a holistic approach to tackling violence and crime in the retail sector. The top trigger for violence and abuse of shopworkers is dealing with shop thieves, yet shop theft offences are often screened out through cautions or fines that don't tackle the root cause of offending.
"The government's commitment to 20,000 more police officers is a step in the right direction, but we also need reform of the justice system and a better system for reporting offences to the police."