The Liberal Democrats have committed to setting a 20% higher minimum wage for people on zero-hour contracts "at times of normal demand", alongside plans to support UK high streets, in its General Election manifesto.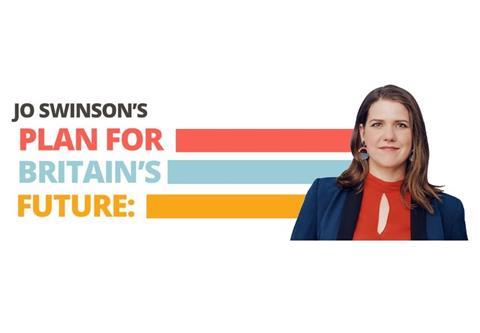 The minimum wage pledge would compensate those on zero-hour contracts for "the uncertainty of fluctuating hours of work," the party said in its manifesto.
The Lib Dems also unveiled a range of high street plans, including financing the transformation of town centres by expanding the Future High Streets Fund and scrapping the rule which allows developers to convert offices and shops into residential properties without planning permission.
It also outlined plans to create a new 'start-up allowance' to help those starting a new business with their living costs in the first weeks of their business.
Announced on Monday by leader Jo Swinson, the Lib Dems would replace business rates in England with a commercial landowner levy, based solely on the land value of commercial sites rather than their entire capital value. This would stimulate investment and shift the burden of taxation from tenants to landowners, the manifesto states.
In addition, corporation tax would be raised from the current rate of 19% to 20% and the rate would be kept "stable with a predictable future path".
On crime, the party would Invest £1bn to restore community policing, enough for two new police officers in every ward. It will replace Police and Crime Commissioners with accountable Police Boards made up of local councillors.
It would extend the soft drinks levy to include juice- and milk-based drinks that are high in added sugar.
The Lib Dems have committed to stopping Brexit and investing "the £50bn Remain Bonus in public services and tackling inequality".
The General Election is on 12 December.