Food inflation eased to 1.4% in November from 1.6% in October, with fresh food inflation at its lowest since March, according to new data.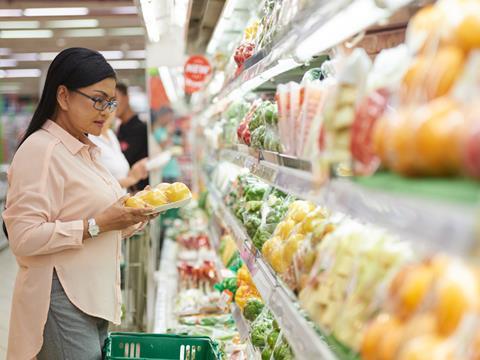 The latest BRC-Nielsen shop price index found that overall shop prices fell by 0.5%, below the 12-month average increase of 0.1% and six-month decrease of 0.4%.
Fresh food inflation decelerated to 0.6% in November, while ambient food inflation dropped slightly month on month from 2.7% to 2.6%.
A strong crop yield for fresh fruits was partly behind the easing of inflation for fresh food, which in turn drove down shop prices, according to British Retail Consortium (BRC) chief executive Helen Dickinson.
"While consumers will welcome the fall in prices in the run up to Christmas, there are various factors which could push food prices up in the longer term," she added.
"These include the impact of flooding on the yields of many root vegetables and the rising global prices of meat. However, the biggest threat to future prices remains the risk of a chaotic No-Deal Brexit pushing up the costs of EU imports, which account for 30% of the food we consume. The next government should aim to provide clarity on the UK's future relationship with the EU as soon as possible."
Nielsen head of retailer and business insight, Mike Watkins, added: "With fragile consumer confidence, retailers are keeping price increases to a minimum to encourage consumers to spend and there is little inflationary pressure coming from the high street."