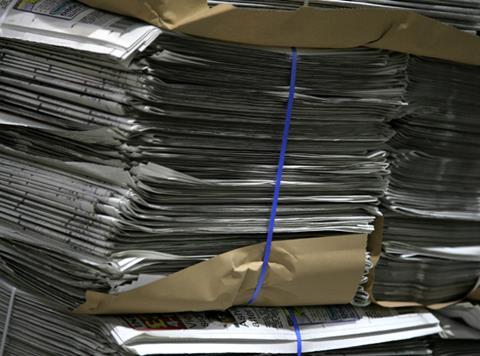 Retailers have been left without several newspapers following a protest by lobby group Extinction Rebellion at presses around the country.
The group targeted presses in Hertfordshire, Merseyside, and North Lanarkshire. The presses print Rupert Murdoch-owned News Corp titles as well as several other publications with Extinction Rebellion hoping to raise awareness of climate change.
The protests resulted in numerous titles not being distributed on time and not making it to retailers on schedule resulting in lost sales for the stores.
Federation of Independent Retailers (NFRN) COO Greg Deacon said the trade body was inundated with calls from members regarding the lack of papers.
+145 calls into our call centre this morning (connect). Apologies for the 14 unanswered calls due to the issues this morning with papers. Team done well to answer 131 this morning. Avg Saturday is normally 30-40 calls in... @TheFed_Online #MemberSupport

— Greg Deacon (@gregdeacon) September 5, 2020
NFRN national president Stuart Reddish condemned the attack. "Our members up and down the country have been left without supplies of the Times, Sun, Daily Mail and Telegraph and are having to deal with angry customers who are unable to get their daily newspaper.
"This also impacts massively on our home news delivery operations. Many members have reported that their newspaper deliverers have been left hanging around as their deliveries have failed to arrive. It also means we are unable to get newspapers to our elderly and vulnerable customers.
"Newsagents have played a critical role during Covid-19 in getting newspapers into the hands of readers and this is not helpful at a time when every sale counts."
Many retailers took to Twitter regarding the delays.
Of all the people losing hard earned money from the blockading of Newspaper publishers this morning, I imagine the effect will be felt least by Rupert Murdoch.

— @TheNewsagent Direct (@Thenewsagent) September 5, 2020
We have received information this morning that 'Extintion Rebellion' protests at a printing site have affected print. At this time our wholesaler expects to receive some titles at 6am, 3 hours late. Some titles may not be delivered. We will do our best to get delivery out today.

— Newsagent (@LOMASNEWS) September 5, 2020
We are no fan of publishers either. But #ExtinctionRebellion have through their actions directly targeted small businesses just like ours, employing tens of thousands across the country and struggling to rebound after Coronavirus. Thank you. pic.twitter.com/Uf3cVsCF06

— Chard Newsagent (@Chard_News) September 5, 2020
£300 down on newspaper sales yesterday. 110 Home delivery customers let down.

— Tenby Stores (@StoresTenby) September 6, 2020