Ethical supermarket Hisbe is seeking to raise £450,000 via a new crowd-funding campaign to help it launch a second store in the West Sussex town of Worthing this spring.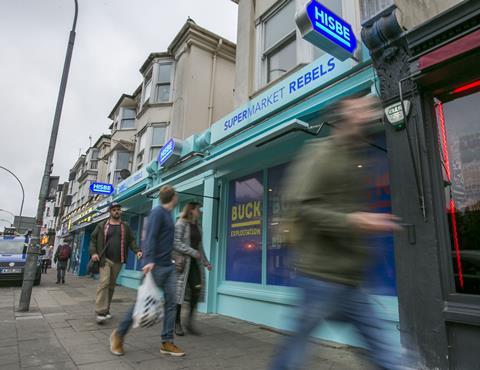 Hisbe has already raised 26% of the £450,000 bond needed to fund the fit-out of the new shop, working capital and the anticipated first year trading loss.
Its first store in Brighton opened in 2013 and now has a turnover of £1.8m.
Hisbe operations director Jack Simmonds told C-Store: "We're so excited by the prospect of our second site and the crowd-funding already appears to be off to a flying start.
"Worthing is a town that is really seen as 'up and coming' so it would be a great fit for us because Hisbe is all about transforming communities and being in places where people need us," he said.
The new store would feature a "vast array" of locally-grown and produced goods, as well as a big range of refillable options, Jack added.
"We will also be looking to employ local people to help us with our services and fit out, employing local builders, carpenters, plumbers and electricians so as to direct as much money as possible back into the community," he added.
"We are being ambitious with the opening date and hoping for April. It's our second store so we have learned a lot but what we will really need is for the local community to get behind us and tell us what they want so that we can really tailor the range and offer to the people of Worthing specifically."
Hisbe's Brighton store offers local shoppers a wide range of local, responsibly sourced groceries, much of which are sold plastic free.
The store also offers staff a 20% discount on their shopping and invests back into the local economy, with 58p in every £1 it spends, spent locally on stock, wages and services.
Hisbe's investment crowd-funding campaign can be viewed on the Triodos Crowd-funding platform www.triodoscrowdfunding.co.uk.
The minimum investment for the bond offer is £50 and it will pay 5% gross interest per year for its seven-year term.