Thousands of grocery deliveries to Co-op shoppers in Milton Keynes are now being made each week using autonomous delivery robots, the company behind the technology has revealed.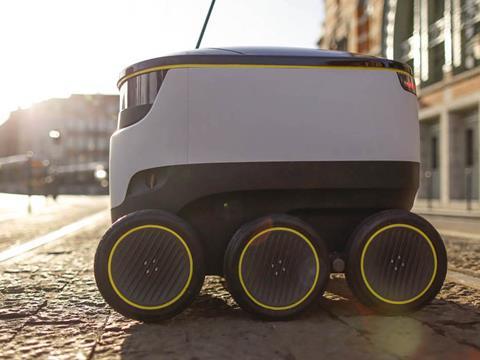 Deliveries to households made using robots from Starship Technologies have increased by 450% in the year since the service was first launched in the in Co-op's Monkston store in April 2018 and a second Co-op store in the town is now set to offer the service too.
Starship also passed the major milestone of 50,000 commercial deliveries made around the world earlier this month.
"Using Starship's delivery service means that residents don't have to worry about driving to the shop to pick up their groceries, which not only saves them time and provides convenience, but also reduces congestion and pollution," Lex Bayer, CEO of Starship Technologies, said.
"To date, Starship's delivery service in Milton Keynes has eliminated tens of thousands of unnecessary car journeys and the most popular items ordered in the last year include milk, bread and chocolate.
"It has been exciting to see the increase in 'top up shopping' by residents in Milton Keynes where they buy groceries on multiple occasions throughout the week now that they have the option of autonomous delivery," he added.
Shoppers place their orders via the Starship app and groceries are loaded into the robots by Starship's human pickers at the Co-op stores.
The customers pay the usual in-store price plus a £1 delivery charge which goes to Starship.
The robots have a top speed of 10mph and can travel up to three miles delivering up to 10kg of shopping including chilled and frozen groceries. They are fitted with ultrasonic sensors for detecting obstacles, nine cameras, radar and GPS.
Upon arrival, the recipient of the parcel receives a text message containing a link to unlock the robot. The robots drive autonomously but are monitored by humans who can take over control at any time.
Chris Conway, head of food digital at the Co-op, added: "This is an exciting time for the Co-op, with innovations and new technologies driving a number of different home delivery schemes.
"It is all about ease, convenience and choice for today's time-pressed shopper. The popularity of our work with Starship is clear to see in Milton Keynes, with children leaving messages and drawings with the robots, and expressions of thanks from members of the community."
Milton Keynes resident Gillian Bailey, who received the 50,000th robot delivery said: "Since the robots came to our neighbourhood last year, they've become such a popular and common sight in the community.
I know many people who use it regularly throughout the week and I've already made over 100 orders since Starship first set up shop here."