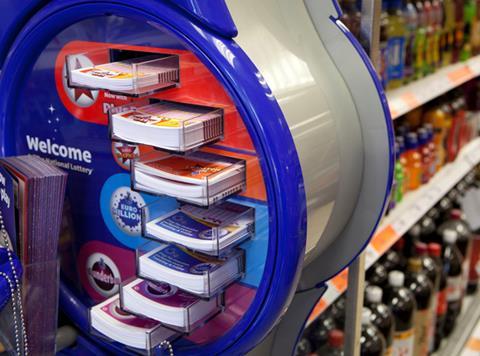 Camelot's sales team will return to stores to offer support to retailers following a period of being 'off the road'.
A Camelot spokeswoman told ConvenienceStore.co.uk: "To ensure we can continue to support retailers as effectively as possible, we have reviewed current government guidance across each UK nation. The situation for face-to-face store visits is that, from today (24 November), our Retail Sales Team are back on the road in England and following enhanced safety measures, including dynamic risk assessments in every call. And they are continuing store visits in Wales and Northern Ireland, as well as in Scotland where government guidance allows - again, all with enhanced safety measures in place."
This comes as Camelot revealed that National Lottery sales for the first six months of the year remained largely resilient despite a customer shift to digital during pandemic.
In the six month period of 1 April to 26 September, the National Lottery operator saw a 1.7% year-on-year decrease, representing a £67.2m drop to £3,854.1m.
Retail sales were impacted by Covid-19, during the six-month period in-store sales decreased by £522.4m to £2,234.8m. However, from July to September, National Lottery sales saw a 15.2% quarter-on-quarter increase when restrictions were lifted. Camelot reported that National Lottery retailers earned £126.5m in commission over the half year – an average of around £2,800 per store over the six months.
During the sales period, Camelot updated all of its advertising to prioritise the ability to play online or on mobile – urging people to only buy tickets in retail if they were already in-store to do an essential shop which resulted in more than 1.3 million new online registrations. It also postponed a series of special jackpot draws that had originally been planned for April and May as Camelot felt it was inappropriate to encourage people into retail during that time.
Camelot also moved its support services online during this period. Its Retail Sales Team had to come off the road during lockdown, although Camelot's local sales reps continued to support retailers via phone and video technology with some of them also moving to the operator's Retailer Hotline to help resolve any day-to-day queries. Camelot also moved its Site, Stock, Sell in-store retailer standards and rewards programme online.
Camelot CEO Nigel Railton said: "With the ongoing impact of COVID-19 and recessionary headwinds, the second half of the year will, no doubt, be very challenging – and indeed this disruption could extend further into 2021/22. So, while there are no guarantees that we'll finish the year in as strong a place as we ended the first half, we'll continue to focus on our strategy for long-term, responsible growth – adapting our plans as necessary according to the circumstances. My sincere thanks must go to all of my fantastic colleagues – whose wellbeing is, and continues to be, our first priority – as well as our 44,000 National Lottery retailers who have done an extraordinary job for the entire UK, providing food, medicine and other essentials. We don't pretend that selling National Lottery tickets is as important as any of that, but the fact that they've stayed open has also ensured that Good Causes have continued to benefit throughout.
"I firmly believe that we have the strong track record and experience required to carry on raising vital funds for those who need it most – and we're fully committed to continuing to work with the government, our regulator and the wider National Lottery family to keep making a real difference to the lives of people and communities across the UK."