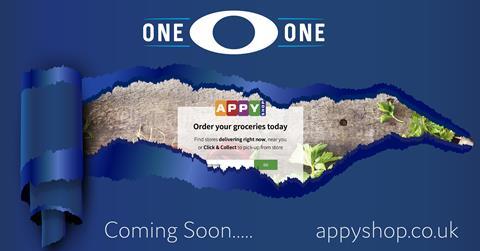 Online shopping platform APPY SHOP has been selected by Scottish chain One O One Convenience Stores to be its exclusive partner.
APPY SHOP will provide the 45-strong chain an integrated e-commerce solution enabling it to offer customers an online shopping platform for delivery and click & collect services. The first stores offering this service are expected to Go-Live from the end of August 2020, with a planned roll out plan to expand to all stores in the future.
One O One Convenience Stores also recently announced that it has teamed up with Glasgow City Council to help vulnerable citizens get their groceries in a safe and convenient way. With over 13,000 people already registered for this type of support in the Glasgow area, APPY SHOP will provide a critical element in helping to deliver this service, whilst also enabling other consumers to shop with ease with One O One stores through a mobile APP and website.
APPY SHOP group sales director James Widdowson said: "We are delighted to be able to announce this partnership and the benefits it will provide consumers in the Glasgow area and beyond. Working with the team at One O One Convenience Stores has been a pleasure, we are all very excited about the coming months and what we can achieve together. From day one it was clear that the One O
"One Group had high expectations, they wanted the best solution in the market to allow them to offer the very best possible service to their customers and so we are delighted they have chosen APPY SHOP."
One O One Convenience Stores Group retail director Paul Stirling added: "One O One are delighted to be launching this new customer service channel to their customers which will enable them to receive a great range of our everyday great value products either direct to their home, or ordered in advance to save time when collecting in store. We believe the technology platform Appy Shop offers will give our customers a great on-line shopping experience and make their everyday life easier, which is something that we are continuously trying to achieve within our stores for our communities."