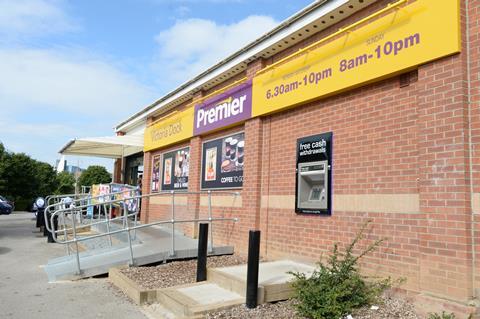 Joe and Kuldeep Kaur Punian opened their latest store in Hull's Victoria Dock in February, under Premier's latest store format. Sales at the revamped former Spar store have climbed to £25,000 per week, alongside margins of 23%, driven by food to go, premium coffee, on-trend categories and other modern footfall drivers. "I aim to get to over £30,000 per week. That extra 3% margin makes a crucial difference," Joe said. Premier brand director Martyn Parkinson said the new format would soon be rolled out to other UK regions.
Food to go
Live images on the store exterior promote the coffee, bakery and sandwiches.
On entering the 2,200 sq ft store, a small seating area includes charging points and free wi-fi to cater for Millennials, while the premium coffee station is selling 600 cups a week, driven by a loyalty card offer.
The coffee station also provides hot water for porridge and noodle pots.
Products for the hot food to go offer are delivered free from the local cash & carry, while chilled food to go includes a broad selection of homemade sandwiches, which are selling at a rate of about 75 units each day.
The store sells up to £400 per week of products from a local bakery, which said it would operate a 'sale or return' policy if Joe doubles his order.
Catering for all
A Kid's Zone includes a high-margin Slush machine selling 500 cups a week. The store also offers free fruit to children.
The gantry area showcases an eye-catching range of spirits, including 32 different gins, and flavoured vodkas which are popular with Millennials.
A recent offer on pink gin, promoted on social media, resulted in the sale of 86 bottles over one weekend.
The alcohol offer also includes a range of premium wines, craft beers and a raft of chilled beer cases.