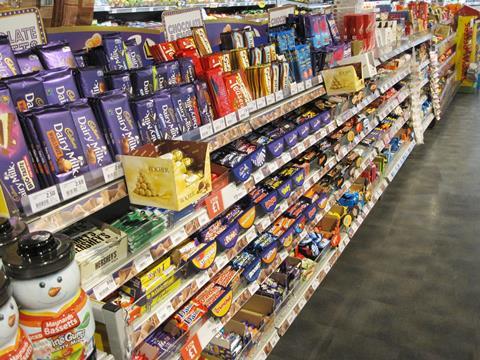 Jazz Heer who runs a Costcutter in Sutton-in-Craven, N. Yorks rang the helpline complaining that the prices of Maynards pmps have remained the same but the margins have shrunk by 3-4%. He says: "They're not taking the bullet but they want retailers to work for less. We're very tempted to delete the line. Sunshine Sweets are a good alternative."
So will it be 'parting is such sweet sorrow' for Jazz?
He suggested that other manufacturers of, say, crisps, which are not price-marked, will just reduce the portions and keep the price (and margins) the same. He also cites Haribo which offers the alternative of switching to non price-marked packs and aren't too bad on the pmps either.
I contacted Mondelēz over this and a spokesperson replied: "At Mondelēz International we strive to offer great value for our retail customers, working hard to ensure we bring them the right products at the right price to meet shopper needs and add value to the categories within which we operate. Maynards Bassetts is the second biggest branded sugar confectionery player in the UK (Nielsen One System, Fused Data w/e 01.11.22). The brand is continuously innovating and evolving to meet consumer needs, last year unveiling a fresh design to celebrate its longstanding heritage in an eye-catching and engaging way, as well as capturing shoppers' attention through its Set the Juice Loose activity."
Thus endeth the commercial.