Westons Cider is putting some sustainable fizz into its range of ciders, including Stowford Press and Henry Westons, by turning leftover apple pomace into carbon dioxide (CO2).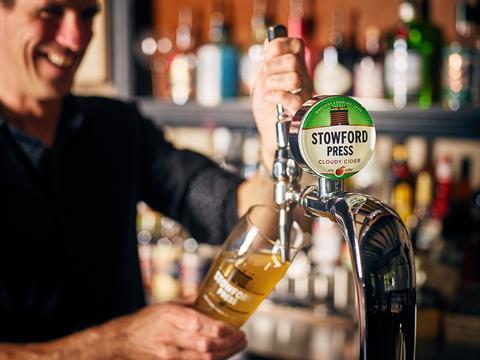 The Herefordshire-based company has created a 'complete circle' for its CO2 requirements after seeking out a new sourcing solution using the solid remains of its cider apples.
Darryl Hinksman, head of business development at Westons Cider, explained: "Thanks to our strong planning and sourcing credentials, we didn't actually get caught out by last year's shortage of food and drink grade CO2 ourselves. But with every chance of further shortages in future, we decided it was time to look for a more sustainable solution closer to home.
"By effectively generating our own CO2 from our left-over apple pomace, not only are we guaranteeing our own long-term supply, we are also meeting our own sustainability objectives. This will immediately remove 10,000 road miles a year from our supply chain, as we will no longer need to take deliveries of CO2 from further afield."
The solution has seen Westons form a new partnership with green energy specialist BioCarbonics Ltd and Hampton Bishop-based farmer Nicholas Layton, who has built a CO2 capture facility around 10 miles away from Westons' Much Marcle mill.
The five-year partnership will utilise the pomace left behind from pressing 29,500 tonnes of apples for Westons' ciders, sold across the retail channel every year.
The pomace will then be converted, along with other feedstocks, into sustainable CO2 and renewable methane through the process of anaerobic digestion.
Layton added: "We had been looking at the possibility of turning food by-products into food and drink grade sustainable CO2 for some time. So when we learned about Westons' objectives to find a more sustainable solution for its carbonating requirements – both in terms of environmental considerations and guaranteed supply – we were keen to explore how we could take their left-over apple pomace and turn it into something much more useful."
To accommodate the new output of CO2 from the two companies' new collaboration, Westons has also built a second CO2 holding tank at its mill to ensure it has enough gas on site to meet its needs.