Westons Cider is embarking on a brand refresh for its Stowford Press Cider range, in a move to go plastic-free.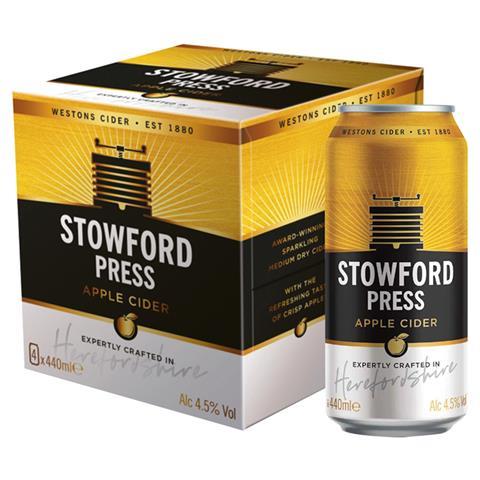 The updated pack design, which includes an enhanced colour palette and a reference to the company's Herefordshire heritage, looks to reinforce the brand's positioning in the cider market,
The Stowford update is also designed to highlight the cider maker's focus on local sourcing and all products will be made using plastic-free materials.
Stowford Press brand manager, Holly Chadwick, said: "The eye-catching new branding for Stowford Press has been designed to increase stand out on shelf. The updated design will also strengthen the brand's positioning as a premium mainstream option for shoppers by emphasising the passion, pride and expertise that goes into every drop of Stowford Press.
"We know our target shoppers value premium, local ingredients and provenance. All of our apples come from within 50 miles of the Westons mill and, by highlighting this on-pack, we are paying homage to our local roots."
Stowford Press Cider (4% abv), featuring the new-look packaging, will initially launch in a 4x440ml format from this month.