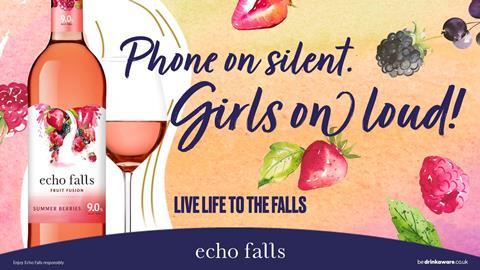 Echo Falls is celebrating female friendships with a new £1m marketing campaign to encourage consumers to get together and share a bottle in the run up to Valentine's Day.
The 'Phone on Silent, Girls on Loud' activation will run throughout February and then return throughout the summer months. Adverts will run on major shopping centre billboards across the nation, with the aim of increasing awareness of the brand and driving purchase across all channels.
The billboards are supported by key advert spots on trending podcasts including 'Shagged Married Annoyed' and 'Wednesdays, We Drink Wine', as well as paid social and digital display activity. Stars from TV show Made in Chelsea will also be recording additional audio spots to feature across multiple podcasts relevant to Echo Falls' female-centric audience.
The campaign will highlight a range of Echo Falls products, including the recently refreshed Fruit Fusions range, available in a 5.5% and 9% ABV, to showcase the opportunity for shoppers to choose the right ABV to match their moment – and to offer choice for those looking for a lower alcohol option.
Alexandra Chambers, senior brand manager, Echo Falls, said: "We're going big with our Echo Falls activity this year, building affinity with our core audience of women aged 25-44. With Galentine's Day around the corner, it's the ideal opportunity to remind customers that female friendships are worth celebrating. Our portfolio of blends and varietal wines, which includes best-sellers White Zinfandel, Merlot and our Rosé blend, provides the ideal accompaniment for any get-together amongst gal pals."