Bavarian non-alcoholic wheat beer Erdinger Alkoholfrei is offering weekend family glamping tickets in a promotion launched as part of its sponsorship of RunFestRun 2020.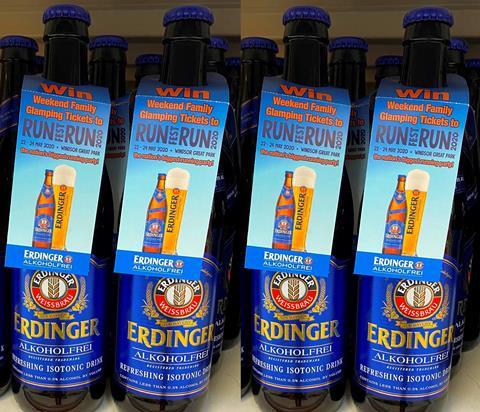 The promotion links Erdinger Alkoholfrei and the running festival via neck hangers featuring a unique code that can be entered into a free online prize draw.
Five RunFestRun weekend family glamping tickets for two adults and up to two children are up for grabs in the promotion which runs until 5 April. Erdinger Alkoholfrei sport kits comprising a holdall, two adult T-shirts and two adult hoodies, as well as £100 towards travel costs are also included.
Billed as 'the nation's biggest running party', RunFestRun is taking place over the Bank Holiday weekend of 22-24 May at Windsor Great Park and features a range of running events, motivational talks and fitness activities as well as a party atmosphere and line-up of bands.
Peter Gowans, UK country manager of Erdinger Alkoholfrei, said: "Erdinger Alkoholfrei has become a popular choice of refreshment for many professional and amateur athletes who choose it as part of a healthier lifestyle.
"Not only is it low in alcohol at 0.5%, it's also low in calories and its isotonic properties help replace lost fluids and quenches thirst faster. Erdinger Alkoholfrei is a great option for anyone who wants to cut back on their drinking, but still wants to enjoy a beer within their fitness routine and is a perfect fit for the RunFestRun weekend."