Accolade Wines is giving its Echo Falls wine range a limited-edition look with the launch of new themed labelling.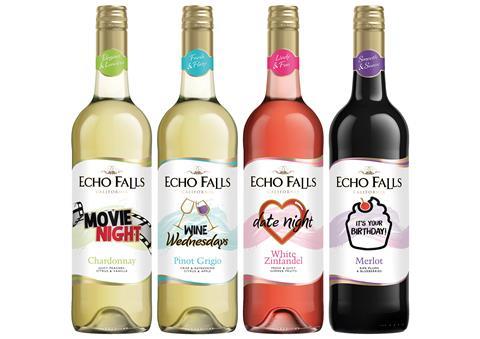 The company will be rolling out 30 special edition labels across its top four still wine variants – Chardonnay, Merlot, White Zinfandel and Pinot Grigio.
The launch will be supported by branded point of sale materials for retailers, including barkers, trolley bays and shelf wobblers, alongside online and digital support to drive awareness of the new look..
Accolade Wines marketing director, David White, said: ""Echo Falls is a fun, spontaneous brand that doesn't take itself too seriously. The target of 30 plus female consumer identifies with the fun and positive brand messaging of Echo Falls, which is all about enjoyment. These occasion driven labels displayed on our top 4 still wines, show the relaxed, spontaneous spirit of the brand."
The range will be available across the conveneince and impulse channel from 6 April, with an rrp of £6 per bottle.