Glitches in the Post Office's Horizon accounting system – the phantom that haunted the 500+ subpostmasters for 20 years – have been hammered by the court. This is the story from one of the many caught up in the scandal.
How do you feel when a long and bumpy ride down a rocky road is finally over? Flat, says Lee Castleton. "As a group we have just paid over £40m to tell us what we, as a group, already knew."
In 2004 Lee Castleton declared himself bankrupt at the age of 39. He had refused to pay the Post Office £27,000 that it claimed he owed due to 'losses' at his sub post office in Bridlington, East Yorkshire, over a three-month period. He had repeatedly asked the PO for help and a system check on Horizon, but they did very little to assist.
After 12 weeks he was suspended. He appealed to the National Federation of Sub Postmasters but the federation, he says, "ridiculed and refused to help in any way".
Lee couldn't afford lawyers or an IT expert witness. At his case in the High Court in December 2005 and January 2006 the judge decided that, as Lee's contract had spelled out, he was responsible for any losses. He owed not only £27,000 but also £321,000 for the PO's legal costs. So he didn't have much choice about the bankruptcy.
He wound up working as an electrician to support his wife Lisa and his two children, Millie, nine at the time, now 24, and Cameron, seven at the time, now 22. (This should give you a sense of the length of time this nightmare went on for the Castletons.)
Lee knew he wasn't at fault, which meant it had to be Fujitsu's Horizon accounting system, the system which the PO had maintained for the past 19 years to be glitch-free until the court found otherwise in December 2019, exonerating more than 550 subpostmasters in their joint action, Bates vs POL. It was 10 long years since the formation of the Justice for Subpostmasters Alliance (Jfsa) in 2009 with about 20 members culminated in this Common Issues trial.
Lee was one of those 550-plus and it has obviously been a harrowing journey.
From the introduction of Fujitsu's Horizon system in 1999/2000 the PO maintained that it was 'robust'. Ever since subpostmasters, who in the main were told they were 'the only one' experiencing issues with Horizon, were being fired and fined, bankrupted and imprisoned, their reputations ruined, their livelihoods gone. There were suicides.
Many of these victims had paid back 'missing' amounts – most commonly about £35,000 – to avoid prosecution.
In July 2010 C-Store's Dear Jac column asked regarding the intended court case: "If they win it will mean cleared names, compensation and, one imagines, heads rolling as it dawns on the upper echelon that, if this 'missing' money was 'repaid' (as it was in many instances by desperate people) then on which bit of the balance sheet should this money be placed? Slush fund anyone?"
It remains a valid question.
In preparation for the trial, a document known as the known errors log was disclosed, revealing thousands of errors that the PO and Fujitsu knew about, but did not inform the subpostmaster network of. One known error, which featured heavily on day one of the trial, was first made public by Computer Weekly in November 2015.
After the trial Lee said: "Alan Bates (the ex-subpostmaster who founded the Jfsa) has been amazing. His forward thinking has been key to all this. The Jfsa's message is we need a judge-led judicial review.
"Sir Peter Fraser (the judge), wow, I have had the privilege of watching him in court and the way he works is unbelievable. His understanding in the technical underpinnings has been phenomenal. Along with Patrick Green QC; he is a whole different level."
But then he adds: "Well, that's the nice bits. I know we are in a whole different world now, but it feels empty. I watched people from the group at our various meetings on the last day in court, trying to come to terms with winning so resoundingly, but clutching at straws with the settlement.
"I know the journey continues. But, as I am sure others are too, I'm tired. Not give-up-and-go-home tired, but not really understanding with hope of a better outcome."
In reference to the £57.75m settlement, he says: "When one of the other claimants voiced their concern over the level of costs and the probable amounts to each individual they were told, 'no matter how much you received it could never be enough'. I understand both sides of that. There is no amount of money that can change the past 16 years."
His case, or some of the evidence given in it, has been referred by the judge to the Director of Public Prosecutions (DPP). "We will have to see what happens."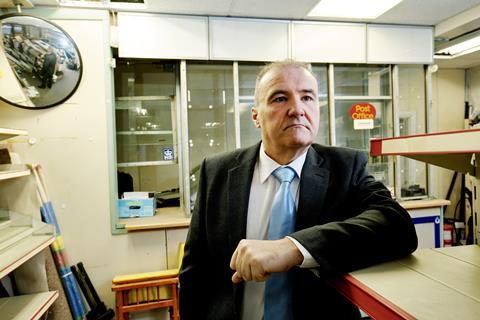 He adds: "I would like the DPP to find the truth of who decided to force the way Post Office fought the cases… not just mine. If anyone has broken the law I really hope they are punished to the full extent of the law. I always think how the Post Office used to quote in letters to me and my MP and various news outlets and indeed the court that it was a priority to protect public funds; there was a duty to the taxpayer and the shareholder. But in order to save face and continue the futile defence of their position, they spent the thick end of one hundred million. Self-righteous liars."
But he has good things to say about MPs. "The other thing that is significant is the work of (former MP) Lord Arbuthnot. He has been tremendous. Other MPs have been great, too. I just hope they now see how they must fully investigate what happened, what lies were told and by whom. Then be brave and take action. No one should have to fight this hard, for this long, to get to the truth."
Then there is the thorny point of Paula Vennells. She joined the PO in 2007 as group network director, becoming CEO in 2012 and taking the PO into profit. She was appointed a CBE in the 2019 New Year Honours, which many have called into question, and has since joined the Cabinet Office as a non-executive director before leaving the PO to take a new role with the NHS.
As Lee says: "The NHS Trust that is chaired by her should, in my opinion, take a good, long, hard look at the 550 people in the group and the actions that were taken on her watch and decide if that is the leader they want. Vulnerable people need to be protected by selfless, honest people."
There are many questions remaining. For starters, why did the PO decide so many competent men and women would bite the hand that fed them, and why did their 'union' do nothing to defend them? And just where is the money?
The claimants are currently fighting for a full Judicial Inquiry into the scandal and have submitted an online petition with over 5,000 signatures. Today Lee and Lisa still live above the store, but they do not envisage opening it again as there is now a Costcutter nearby. Lee still works as an electrician, working in a factory on 12-hour shifts.
TIMELINE
Horizon, introduced by Fujitsu in 1999/2000, is used by nearly 12,000 post office branches. Subpostmasters are held liable for any unexplained losses
September 2009: BBC Wales' Taro Naw (Strike Now) revealed new evidence in support of subpostmasters' growing complaints. Lee Hamilton took part in the programme
November 2009: Alan Bates, postmaster in North Wales from 1998 to 2003, holds a meeting for others affected by Horizon, leading to the establishment of the Justice for Subpostmasters Alliance (Jfsa). There were some 20 inaugural members
February 2011: Shoosmiths (Access Legal) announced it was ready for legal action on behalf of some 55 subpostmasters
June 2012: PO appoints forensic accountants Second Sight to conduct an independent review
April 2016: Jfsa announces High Court proceedings issued against POL (through Freeths)
May 2017: The number of applicants to join legal action against POL rises to more than 1,300. The list was eventually reduced to 500+
October 2017: First main procedural hearing in the Group Litigation on behalf of 500+ claimants took place before Mr Justice Fraser
March 2019: Court rules in favour of the 500+ subpostmaster claimants
April 2019: Judge Fraser announces that he will not recuse himself
November 2019: Court of Appeal rejects the PO's application to appeal on all 26 counts
December 2019: The Post Office settles the group litigation brought against it by Alan Bates and 550+ other subpostmasters for £57.75m.
January 2020: The High Court rules in favour of subpostmasters in the second Horizon trial (the 'technical' trial of the computer system)
January 2020: The Criminal Cases Review Commission writes to 34 former subpostmasters and Post Office workers to advise they are planning to convene a meeting of CCRC commissioners in March 2020. This meeting will decide whether or not to recommend their cases be sent to the Court of Appeal
February 2020: Claimants submit an online petition pushing for a full Judicial Inquiry into the scandal
Post Office aims to reset the relationship
The Post Office is aiming to put the relationship with postmasters on a new footing in the future, with a new branch support centre and upweighted team of area managers, overhauled training programmes, a more proactive loss-prevention team and an increase in remuneration.
A Post Office spokesperson told C-Store: "In reaching a jointly agreed comprehensive settlement with the claimants, bringing the Group Litigation to an end, we accepted our past shortcomings and sincerely apologised to those affected.
"We're making extensive improvements to drive culture change and ensure we work with postmasters in genuine commercial partnership.
"We've put in place personalised new support for every postmaster, increased training and a new branch support centre with dedicated case handlers for more complex queries which cannot be immediately resolved.
"We also continue to address past events. We are planning a scheme with the aim of addressing historic branch shortfalls for postmasters who were not part of the Group Litigation settlement and will announce details in the near future.
"There is, of course, more to be done, but we're putting our postmasters and our customers at the centre of everything we do."