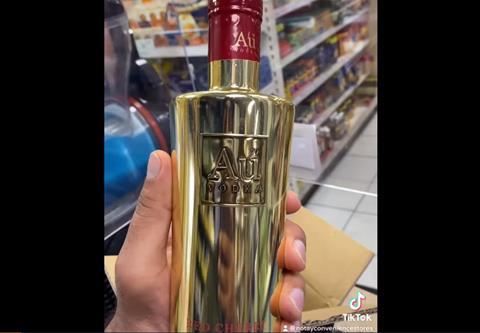 Luxury vodka brand AU has been teasing its new flavour since last month and retailers who got their hands on the first few cases haven't wasted any time sharing the news with their customers. As soon as their deliveries dropped, these savvy c-stores have been letting their creative juices flow on TikTok and telling everyone where they can find the red hot new flavour.
"You've got to get it quick," says Serge Notay of Notay's Convenience Store in Batley, who has already posted several TikToks about the new flavour, which he is selling for £34.49 with a free big bottle of coke or £100 for three.
"We sell AU all year round, but if you're known to get it in when it launches you become a destination store," he explains."I've already sold six bottles and I've only had it in since midday."
He follows trends closely on TikTok and makes sure he is first with new lines. "Because we are known to get new stuff out and to be on trend we need to keep that image up. It's not just alcohol. Brainlickers are another thing people are wanting. Fidget spinners were big and Geek Bars too - there's stuff we would never dream of selling but we had to get on it to keep ahead of the times."
Serge's latest AU Vodka Red Cherry video uses a siren to capture people's attention. "It's the sounds and the hashtags that get you noticed," he says.
Plenty of other retailers have been busy promoting the new line too:
Moss Bay Premier in Workington, Cumbria, went for a comedy sketch to highlight the new arrival
Singh's Premier in Sheffield lined its shelves with gold for the ultimate impact and has already racked up over 7,000 views
Bobby Singh got in on the action at BB Nevision Superstore in Pontefract by posing with bottles on the counter
Okus Convenience Store in Swindon filmed close up shots of the cherry bottle
Okus convenience store in Swindon filmed close up shots of a box of bottles.
Premier Sandiacre in Nottingham showed off the whole AU range headed up by the new Cherry variant.
Chadha's Premier in Sheffield used a Cherry Bomb soundtrack to complement the new flavour