Simon Biddle runs us through the hygiene and social distancing measures he has maintained to keep customers safe
In the early days of lockdown, independent retailers had reorganise their businesses to ensure that customers and staff were protected
Simon Biddle and his team at Spar Biddles in Webheath, Redditch had to work quickly to ensure that both customers and staff remained safe during the coronavirus. "We altered shifts around and reduced our hours," says Simon. "We used to close at 9pm, but we cut it down to 7pm. We've just put it back to 8pm recently. We'll see what happens and possibly get back to normal hours soon."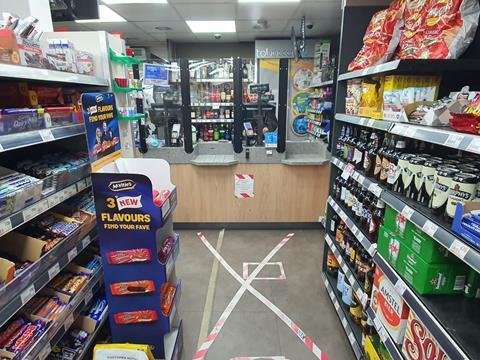 Tape on the floor marks out 2m sections and barriers outside the store reinforce social distancing. Even though the government guidance reduced this to 1m where needed, Simon has kept it at 2m as he felt it was the safest thing to do for staff and customers.
There's a sign at the tillpoint asking people to pay by contactless where possible and he's still limiting the number of people that can be inside.
"We're only allowing six customers in at a time," explains Simon. "It was the best thing we did limiting the amount of people coming into the store." That's another element Simon has kept in place as the lockdown relaxes.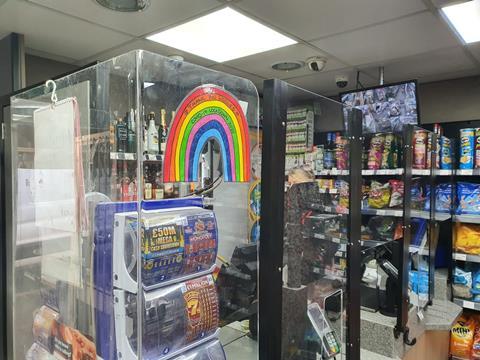 Simon spent just under £1,000 on a security door and steel-framed sneeze shield from Insideout Events Ltd which was a long-term investment for the business. "There's no point in buying a temporary solution, it's something we might need for a long time," he says. "All the customers are so happy about it and feel secure, which is nice to hear."
Staff wear gloves and they have masks if they want to wear them. Under new government guidance, from 24 July all staff not working behind screens will have to wear a facemask, as will customers, with some age and health exemptions.
The staff member monitoring the door sprays all the baskets to sanitize them on a regular basis while customers entering can keep their hands clean going in and out of the shop. "We have a hand sanitizer station from Blakemore for outside the front of the store with all the signage about how to wash your hands," says Simon. "It cost £170 and came with 10 litres of sanitizer."