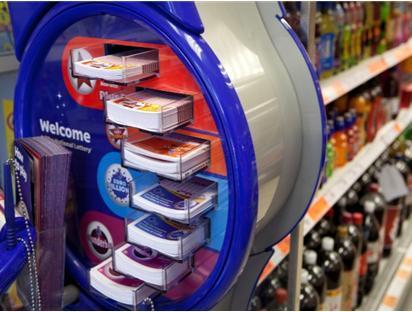 Anand Patel wrote in about a "very frustration situation with National Lottery operator Camelot".
He said that, for the last few years Camelot had been rewarding retailers monthly for displaying their scratch card dispensers according to planogram along with point of sale posters etc.
"I've been doing everything correctly so therefore I get top score and rewards accordingly," he added.
"Now that Camelot has lost the licence to run from February 2024. I thought to spend the reward money that I've accumulated. But little did I know spending with their issued Mastercard it's not that simple. I've got the correct pin number and I know the balance and I have downloaded the verification app also."
But when he tried to spend the card gets declined. He called Mastercard and left several messages but got no response.
He had also spoken to his Camelot field sales executive (FSE) who had suggested that Anand visited the National Lottery retailer website for answers.
"Which I did and sent email to them. They acknowledged the email and said someone will be in touch, till today no one has! I've spoken to head office at Camelot and simply they're passing the buck and no one has answers."
He called again only to be told that they had no answer and said Mastercard is a third party company so they can't do much about it. He was advised to lodge an official complaint to Mastercard.
"I again contacted my FSE and he said that's not part of his job description, so he's sorry but can't help.
"I just simply don't understand why Camelot has made it impossible for retailers to spend their reward money.
"Is Camelot washing their hands of retailers, now that they've lost the operating licence?
"Before I lose my complete faith in Camelot and my hard earned reward money, I just like to ask you to see if other retailers, are experiencing the same issues?"
I spoke to Camelot and the official response was: "Unfortunately, we have identified an issue with a number of National Lottery Retailer Hub Mastercards, which is preventing some retailers from using their card. We are working with our third party supplier to understand what happened and will be issuing new Mastercards to affected retailers to rectify the issue – these should be landing week commencing 13 June.
"We've spoken to Mr Patel and explained what has happened and that he can expect a new card in the coming weeks, and have also given him a gesture of goodwill for the problems he encountered when reporting the issue. We are really sorry to him and all those affected by the problem.
"Any National Lottery retailer who is having trouble with their Mastercard should get in touch via the National Lottery Retailer Hub email address."
Meanwhile Camelot's communications team also wrote to retailers: "We have recently been experiencing some challenges with Mastercard, which may have already affected a previous card order either once or multiple times.
"Due to an administration error, which has caused incorrect expiry dates to be applied to cards, some users may be experiencing issues with cards issued in March, and we have been unable to issue new cards in April and May.
"We are extremely sorry and understand this will have caused frustration as this will have stopped you being able to access your funds. We are working hard to rectify this issue as quickly as possible."
And in case you were wondering, the goodwill was fifty quid.

Jac Roper is editor for Convenience Store's Dear Jac column. If you've got a retail problem, call Jac on 020 8502 9775 or email: jac@roper-biz.co.uk.