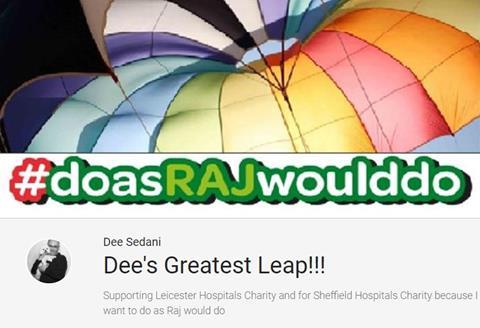 In memory of his good friend Raj Aggarwal who passed away in April 2020, One Stop Etwall retailer Dee Sedani is to take a leap of faith and do a skydive to raise money for Leicester and Sheffield hospitals charities.
Raj passed away due to Covid-19 in April 2020, leaving the industry devastated. At the start of the pandemic Raj donated food and drink to the local hospital and homeless shelter as well as gave free lunches to paramedics.
Earlier this year, a charity event held in his name raised more than £35,000.
To honour his memory and as part of the #DoAsRAJWouldDo initative, Dee plans to jump out of a plane at 13,000ft on 26 November to raise money for the charities that Raj held dear.
As an added incentive, Dee has set out some fundraising milestones for the jump.
If he raises £3,000, he will wear a Lewis Hamilton T-Shirt and Everton FC Shorts for the jump.
If £5,000 is raised, he will wax his chest and shave his famous goatee for the jump and if he raises £10,000, he will do the jump wearing a dress.