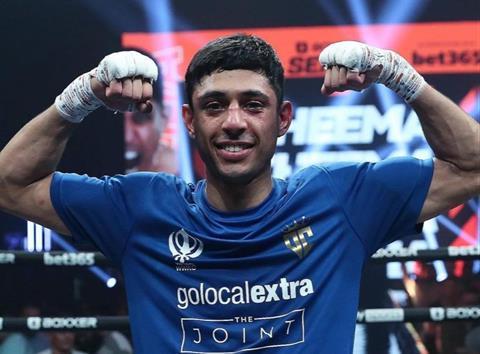 Dylan 'The Natural' Cheema, 25, was crowned BOXXER Series lightweight champion last Saturday.

Dylan, who works as a business unit manager in the chilled and frozen produce category at Parfetts head office in Stockport, also helps out in his family's own local convenience store, Malcolm's, in Coventry every Saturday. He even worked in the family shop on the Sunday after winning the BOXXER tournament as it was a busy Bank Holiday weekend.
The tournament was broadcast live on Sky Sports where Dylan's grandad and founder of Malcolm's, Malcolm Cheema, told a TV interviewer Dylan was a "brilliant" store worker, who worked just as hard in retail as he does in the ring.

Parfetts, which supports Dylan with a sponsorship package and flexibility around training and fights, agreed that he is wholly committed to his work, commuting every day from his home city of Coventry to Parfetts in Stockport, Greater Manchester. He trains twice a day, six days a week, including lunchtime gym sessions during work and after completing his working day at his boxing gym in Birmingham.
He is also on the panel for the Federation of Wholesale Distributors' Future Leaders Forum, which aims to develop emerging talent in the wholesale sector. The scheme is made up of 30 individuals aged 30 and under from suppliers, wholesalers and service providers from the retail sector.

Dylan said of his win: "This is the just start of things for me. I'm ready for the bigger nights and can't wait to see what the future holds. I've got a good manager and a good team behind me, and I have great support and encouragement from my employers at Parfetts, who not only support me financially through sponsorship but give me the flexibility to step up my training when I need to in the build-up to a big fight. It means a lot to me that they are in my corner as I look to pursue my boxing dream."

Guy Swindell, joint managing director of Parfetts, said: "Dylan is a fantastic colleague, and we are immensely proud. We support his goals and look forward to seeing what his boxing career holds. Dylan was back at work straight after the tournament and is passionate about the wholesale and convenience sector."