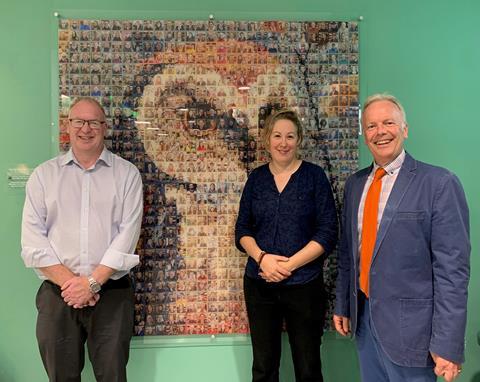 CT Baker Budgens of Holt store has unveiled a new art installation that celebrates the history of the local community.
The installation highlights Holt's historic connection with owls, and features more than 800 portraits of members of the Holt community who attended the launch of the new store in March, as a thank you for their support when the store was destroyed by fire three years ago. The store reopened in May 2023.
Standing at 1.75m tall, the owl artwork was designed by leading creative agency, KAT Marketing, and was installed by signage experts, EsignUK. It was commissioned to complement the contemporary look of the new store, which now offers self-service checkouts and refill stations, as well as its highly regarded variety of local produce and a new loyalty scheme.
Shoppers will be able to look out for faces they know within the design, with the artwork located next to the self-service checkouts.
Managing director of the CT Baker Group, Carl Milton, said: "It is fabulous to see this incredible piece of artwork added to the store. Being a central part of community life is at the heart of everything we do at CT Baker Budgens of Holt and this is such a fitting way to showcase this to our customers.
"With the owl as the main concept, we wanted to link to the history of Holt and its long association with these amazing creatures. What could be more fitting than to encapsulate this with more than 800 portraits of our loyal customers, suppliers and colleagues within the image?"