Tesco has announced it is axing its largest Jack's store a year after the retailer unveiled the discount chain, but plans to open three more sites by the end of the year.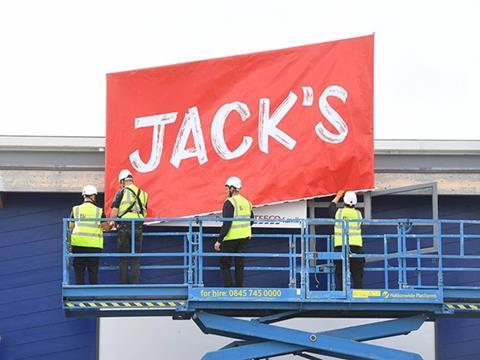 The 40,000sq ft store in Rawtenstall, East Lancashire, which Tesco said was a "a very different version of Jack's", was opened in April this year and will be replaced with a Tesco store.
Tesco said it was currently exploring alternative locations to trial the bulk-buy Jack's offer.
The warehouse-style store, which originally replaced a former Tesco store, offered Jack's own brand items alongside mainstream grocery brands and general merchandise products such as TVs, irons and scooters which are sold on a 'When it's Gone, It's Gone' basis.
The discount chain, named after Tesco founder Jack Cohen, was unveiled in September 2018 to coincide with Tesco's centenary in an attempt to compete with the likes of Aldi and Lidl. There are currently 10 Jack's stores across the UK, with three more set to open by the end of the year.
A Tesco spokesman said: "We are set to open a refreshed Tesco store at Bocholt Way in Rawtenstall. Earlier this year we launched a unique bulk buy Jack's trial store that was 40,000 sq. ft but following local customer feedback we have decided that a Tesco store will better serve customers in this area.
"The 10th Jack's store opened in Walton in August and we are excited to be opening three more by the end of the year."
All Jack's employees will be transferred over to the new Tesco store, with new additional roles also available.