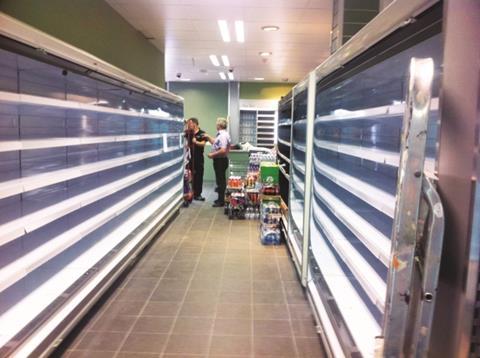 Scottish retailers have invested £62m in their stores over the past year, according to new research.
In its latest Scottish Local Shops Report, the Scottish Grocers Federation (SGF) found that the 5,025 convenience stores in the country have invested some £62m in their businesses. This is down from the £64m reported in 2019.
Refrigeration saw the highest level of investment, with 42% spending money in that area while 35% spent money on internal building maintenance. Four-fifths (80%) of the investment came from retailers' own reserves while 10% was funded by suppliers and 3% from symbol groups. This is a near reversal of the picture in 2019 when 13% of investment was funded by symbol groups and 2% was provided by suppliers.
SGF head of public affairs John Leen explained to ConvenienceStore.co.uk that the shift between the two funding sources may be a combination of pre-planned refit programmes and the impact of the coronavirus.
"Symbol groups will have their own investment 'programs' which they will roll out across their estate or within targeted stores," he said. "2019 may have been a year when more of this happened, 2020 less so. 2020 plans may have been put on hold because of the pandemic – it's probably wise to see what the new normal will be in terms of social distancing, protective measures in store and so on.
"Meanwhile, I think it's safe to say that many suppliers have seen the uplift in sales in c-store as customers have embraced shopping locally and are probably more willing to invest in convenience, at least in the short-term."
The report, created in partnership with the Association of Convenience Stores, also found that the sector provided around 47,000 jobs in Scotland, an increase of 3,000 on 2019. The number of stores reported also increased from 4,973 in 2019 which is largely in line with the overall increase of convenience stores in the UK (46,388 in 2019 to 46,955 in 2020).
It also highlighted that 14% of retailers work for 70 hours per week, 18% take no holidays and the average store is open for 14 hours per day. The average basket spend increased from £6.38 in 2019 to £7.46 in 2020.
SGF chief executive Pete Cheema OBE said: "The Scottish Local Shop Report gives us the hard numbers we need to show clearly how important the convenience sector is to the national economy, the local economy and to our communities. Retailers continue to invest massively in their businesses and this shows how determined they are to drive up standards. The effort retailers have put into expanding home deliveries is a tribute to their willingness to support vulnerable customers and to adapt to the impact of the pandemic."