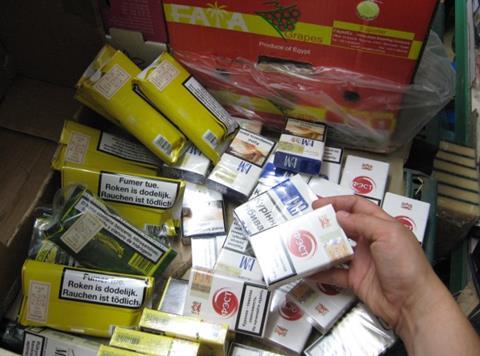 Karzan Ibrahim Abdullah, director of Broughton Convenience Store Ltd., has been prosecuted for selling counterfeit tobacco following an investigation by Salford City Council Trading Standards.
Mr Abdullah pleaded guilty to offences under the Tobacco and Related Products Regulations 2016 and the Trade Marks Act 1994 for possession and sale of illicit tobacco products when the case was heard at Salford and Manchester magistrates court on 16 December 2021.
Council officers found cigarettes and tobacco hidden in the basement of the Broughton shop on 19 November 2019 and returned nine days later to find more products behind the till and in a rear room.
The total value of the amount seized was over £11,000.
The court heard that trading standards officers and a specialist dog handler visited the site the first time and seized 128 pouches of tobacco and 640 cigarettes that were confirmed to be counterfeit.
On the 28 November 2019 officers conducted a follow-up visit where more counterfeit tobacco was taken.
Mr Abdullah was sentenced to 200 hours of unpaid work and ordered to pay costs of £920. The Limited Company was fined £750 and ordered to pay costs of £920, as well as a victim surcharge of £95. A forfeiture order was also made for all goods seized.
Councillor David Lancaster spoke after the case was heard, saying Mr. Abdullah put 'profit above public safety.'
"Selling counterfeit tobacco deprives the country of taxes to fund vital public services like the NHS and undermines all our attempts to help people quit smoking to protect their health," Lancaster went on.
"Taking action and stopping these criminals makes our communities safer and I would encourage anyone who has information about the sale of illegal tobacco to contact us or report it anonymously to Crimestoppers."
Manchester's 'keep it out' campaign shows the impact smoking has on people's health, as well as the links illegal tobacco has with organised crime.
Salford City Council has pledged its support for the campaign and has now written to over 200 retailers in the area to ask for their support in the fight against illegal tobacco.
This comes after major seizures took place in Grimsby as part of HMRC's 'Operation CeCe'.