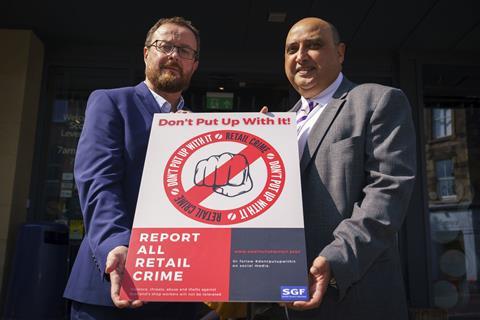 Almost 300 cases of abuse against shop staff in Scotland were reported to police in the first three months of the new law being coming into force
Between 24 August and 30 November, statistics from the Scottish Business Resilience Centre showed that 285 incidents of threats and abuse in shops were reported to Police Scotland, all of which are being investigated.
The figures have been shared by the Scottish Grocers' Federation (SGF) as it calls on retailers to continue a zero tolerance approach against retail crime.
The SGF has been urging members to report every incident as part of its 'Don't Put Up With It' campaign against retail crime.
Dr John Lee, the organisation's head of policy, said: "The message is getting out loud and clear that it's unacceptable for anyone to threaten or abuse Scotland's retail workers. Those responsible will be punished.
"While every incident is one too many, the statistics show that the Protection of Workers Act is effective, is much needed and that store owners and their staff are unafraid to use it.
"What's more, it's reassuring to see how serious Police Scotland are treating the complaints made, with every incident reported either having been investigated or under active investigation. This gives retailers confidence that these crimes are being taken seriously."
In August, it became a specific offence to threaten or abuse retail staff in Scotland when the Protection of Workers Act came into effect.
The Protection of Workers Act includes specific measures for incidents which occur while carrying out statutory duties such as age verification - a significant trigger for staff facing abuse.
Lee added: "Everyone has the right to feel safe at work. Far too many retail workers, however, are left terrified by the trouble they are forced to deal with. No-one should have to put up with becoming a victim of crime simply for doing their job.
"This law proves that abusing and threatening shop staff will not be tolerated. Levels of awareness among retailers are clearly high. We are grateful for the support and encourage retailers to continue reporting every crime recorded in their shops. Don't put up with it."
The Don't Put Up With It campaign was launched to highlight its power to retailers - with hundreds pledging to report all incidents. Supported by the Scottish Government, it has also encouraged shoppers to show respect for staff by urging them to #SayThanks for all they do to support their communities.
To find out more, go to www.dontputupwithit.scot. Crimes should be reported to Police Scotland on 101. Call 999 in an emergency. Witnesses can contact Crimestoppers anonymously - 0800 555 111.