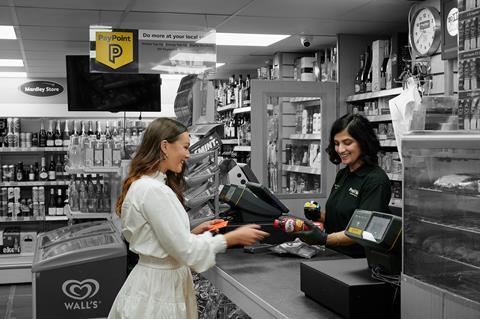 Nearly 1,000 retailers within the PayPoint network are in the process of rolling-out home delivery service Snappy Shopper, with plans to have up to 40 retailers per week introduce the offer.
Speaking to ConvenienceStore.co.uk when announcing its half-year results, PayPoint CEO Nick Wiles outlined the progress made on the Snappy Shopper partnership that was announced in May 2021. "We have put live just over 130 of our retailers [to Snappy Shopper] and we've got close to 1,000 in the process before they're on-boarded. We're looking at an on-boarding plan of between 25 and 40 per week.
"We're looking at how retailers are performing once they begin to mature as a Snappy Shopper retailer and we've been encouraged by the sustained uplift in sales we've seen and says that home delivery for the convenience sector is working."
He outlined the goal of the partnership between the two businesses.
"I think we will very quickly get to between 2,500 and 3,000 of our network as Snappy Shopper retailers, and if we get to 4,000 or 5,000 of our retailers joining Snappy through us, that's a great outcome.
"It's a tough market and you have to have a dog in the fight, and we felt Snappy Shopper was the best way of responding to the home delivery challenge."
Energy supply
With energy suppliers to consumers at risk, Wiles said PayPoint is supporting the supply chain to ensure as many people as possible have access to fuel. "The first thing we're doing is staying really close to Ofgem and to the energy suppliers so we can understand exactly what is happening in the energy market.
"All we can do is be agile, and when we see an energy supplier fail and moves to another provider, make sure that provider is within our network so we can continue to provide service because the area we are most worried about, particularly as we come into Winter, is an increase in fuel poverty. We're already beginning to see that and we will have to support local authorities and government departments to help support consumers moving into fuel poverty."
In its half-year results, itreported progress on its strategic priority of "embed PayPoint Group at the heart of SME and convenience retail businesses".
Speaking of the work done in the past six months, Wiles said: "Good progress has been made on our strategic priorities: we've continued to enhance our proposition to help our retailer partners respond to key consumer demand trends, such as local store to door delivery and FMCG rewards, backed up by increased engagement with them and key trade associations.
"We have also commenced the rollout of our Counter Cash solution, providing vital access to cash in communities across the UK; we've secured more client wins for our digital payments solutions and i-movo has launched a major new service with the Department for Work and Pensions replacing the Post Office Card Account; and we've diversified our e-commerce offering to launch more services with existing clients whilst building out our consumer Parcel Send service."