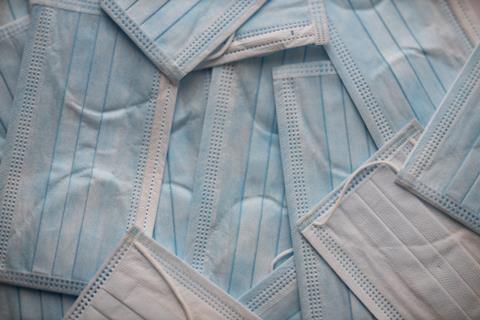 Retail staff in stores in England will be required to wear face coverings.
Announced by Prime Minister Boris Johnson on Tuesday (22 September) as one a raft of new restrictions aimed at helping to slow the spread of coronavirus, the regulation will come into effect on Thursday 24 September.
This change to the regulation brings England in line with Wales where all staff are required to wear face coverings and Scotland where staff on the shop floor have to wear coverings while those behind screens do not. Retail staff in Northern Ireland do not currently have to wear a face covering.
Staff in stores in England do not have to wear face coverings in stock rooms or if they are working behind a screen.
For a full breakdown of face covering guidance in your part of the UK, click here.
The Association of Convenience Stores has published some guidance for retailers who may be confused about the changes following some clarification from the government.
Colleagues in retail are required to wear face coverings from today. Here's what you need to know about the regulations pic.twitter.com/gMOybPvlFL

— ACS (@ACS_LocalShops) September 24, 2020
Chief executive James Lowman said: "We welcome the additional clarification from Government on the wearing of face coverings by colleagues in stores. Thousands of retailers have already invested in their stores through the installation of Perspex screens and other PPE for colleagues, so it's welcome that these mitigating measures are being recognised by the Government. We will continue to work with retailers to ensure that they can comply with the detail of the new regulations."
NFRN national president Stuart Reddish said: "We have encouraged our members to wear masks within their stores since they became mandatory for customers in July, in order to encourage customers to comply with the legislation.
"Although the new legislation may cause some inconvenience to store workers, it is in everyone's best interest to help stop the spread of the coronavirus."
Best One retailer Kay Patel said his staff were already using face coverings.
"Our staff have been told they need to wear masks on the shop floor since the start of this pandemic but we haven't really enforced it until now as staff are aware they are technically exempt from wearing them so some wear them continuously and some don't. We are waiting for clarification about needing to wear masks behind screens and will then update our staff accordingly.
He added that he expects most retailers to already have this measure in place. "I don't think it will be too hard to implement as most staff do wear them regardless and the ones who choose not to won't want to risk a £200 fine."
Dilip Patel of Londis Clapham Park in London is also already using face coverings but has been encouraging more customers to wear them as well.
Budgens retailer Pratik Patel also said his staff have been wearing them already. "All Budgens team member have been wearing face coverings for the last two months.
"This implementation led to customers having more confidence in shopping."
He added that any system is tricky to introduce but worth doing. "It is always difficult to implement a new system, and a lot hinges in on the buy-in of the team. But in these extremes of circumstances, as a society, we wear masks for each other."