Robbery is one of the most extreme experiences faced by retailers and their staff. C-Store explores how store owners can prepare for the worst
Falling victim to any crime is a traumatic experience, but for c-store retailers it is robbery that can be the most harrowing.

The cost of incidents can run much deeper than the immediate repair of equipment or replacement of stolen stock, which may explain why stores spend more than £4,200 a year on crime prevention measures (Association of Convenience Stores 2018 Crime Report).

A report by the Office for National Statistics, tracking UK crime for the 12 months to December 2017, states that incidents of robbery increased by 33% year on year, with the number of violent crimes such as knife crime also rising by 22%.

Connolly Spar in Wiltshire is no stranger to this type of crime. "With our stores, we've had a number of smash and grab incidents, and both the external and internal ATMs have been targeted," says business development manager Susan Connolly.

Rikul Patel, mutual manager for insurance agency The Retail Mutual, has heard similar reports from other retailers. "Over the past year, we have dealt with a number of claims for violent crime against our members, involving screwdrivers, hammers and knives, as well as verbal abuse and threats. A number of our members have also suffered expensive damage to cash tills and epos systems as a result of thieves targeting their cash."

The increasing threat of extreme offences means store owners need to find practical and effective ways to deal with it.

Security training company StoneHawk runs four-hour training sessions that help retailers to cope with different types of robbery, including smash and grabs and theft with the threat of force.

"One of the first things we do is speak with the retailer beforehand and establish what security systems they have in place," says former Metropolitan policeman and managing director Simon Wilson.

"In terms of specific security systems, having good CCTV is essential," he says.

There are two ways that CCTV can help, according to security system supplier Cricklewood Electronics. "First, it acts as a deterrent to stop the incident happening in the first place," says director Chris Grocott. "Second, with modern TVs, you stand a good chance of getting good footage to hopefully catch the criminals."

Gary Anton, national account manager for security firm Cougar Monitoring, agrees that CCTV is a crucial tool. "The cost of a good member of staff going off sick or leaving because of a crime is going to be far more than the cost of installing a new security system," he argues.

The firm has just launched a device that enables staff in danger to alert a CCTV operator who can speak directly to attackers via a speaker system, while also alerting the authorities (see panel, right).

In addition to CCTV, Wilson recommends panic fobs, which can be worn on a belt so store owners can carry them round at all times.

"Often retailers are out stacking shelves or in the office when the criminals come into the store, so it isn't always possible for them to get behind the till to press their panic button," he says.

He suggests that retailers also use some form of security foam or fog, which helps to hide products from view during an attack. As a result, the criminals may be forced to leave before they can steal anything.
The scale of the problem
9,304
Estimated annual incidents of robbery against c-store retailers (ACS Crime Report 2018)
£18m
Total cost of robbery to the convenience sector (ACS Crime Report 2018)
£8m
Total cost of ATM ram-raids to the convenience sector (ACS Crime Report 2018)
£700m
Total direct cost of retail crime (BRC Retail Crime Survey 2017)
Another piece of kit which can help to deter criminals is SelectaDNA's Intruder Spray. Managing director James Brown explains: "Once triggered, the spray soaks intruders in a solution containing a unique DNA code that is visible under the UV light of police custody suites. The spray can remain on clothing and skin for weeks and is traceable back to the specific store, giving the police the evidence they need to secure convictions. The DNA spray can be armed by a panic button and/or linked to an existing intruder alarm system."

SelectDNA also encourages retailers to display warning signs to let customers and would-be thieves know the system is in operation.

Beyond equipment, the best way to prepare for the worst is by having a security plan in place. Says Wilson: "If the store does come under attack, then staff need to be prepared. Every member of the team needs to know what to do in the event of a crime, whether they have a safe word or another system.

"If staff feel empowered and can work together as a team then they are more likely to go into autopilot when an incident does happen."

He encourages retailers on his course to give full-time, part-time and seasonal staff the same level of security training. "Anyone who can be affected by crime should be included in the training," he says, "including the store cleaners".

Understanding when the store is most vulnerable to an attack is another element. "It's important to go through the major risks," Wilson asserts. "Opening and closing times are particularly important because criminals prefer it when there are fewer people in the shop. It is also the time when the tobacco gantry and alcohol section are most likely to be fully stocked."

The security system at Thornton's Budgens in Belsize Park, London, was put to the test back in March when the store suffered an attempted armed robbery.

A hooded figure entered the store carrying what turned out to be a fake sawn-off shotgun and attempted to take cash from the store's post office. A code nine announcement (usually meaning shoplifting) was made and four men from the store's Welcome and Safety team pinned the offender to the floor and held him until police arrived.

Store leader Daniel Frohwein applauds the bravery of his team. However, he notes that they have also been told that trying to apprehend an armed robber simply isn't worth the risk. "We all recognise that it was a spur of the moment thing, but our message is not to interfere with the offender and instead let them take what they want. It's not worth losing a life."

Wilson agrees that going along with the robber's request is the best tactic. "Most offenders aren't interested in the individual," he adds, "they only want the stock that they came in for to sell on to someone else. The main thing to do is to be compliant."

He suggests that retailers may be able to defuse a situation by being submissive. For example, putting their hands in the air and taking care not to aggravate the criminal by challenging their requests.

Wilson points out that acting in a controlled manner can prevent staff from being put in unnecessary danger and allows store owners to concentrate on the aftermath of the crime.

"After an attack, it's important to preserve the evidence," he says. "Don't clear up or tidy. If a staff member has been man-handled, even if the criminal is wearing gloves, there is still a forensic exchange going on that could be vital to the case."

Dealing with the emotional impact of robbery sensitively and swiftly is also vital. Says Wilson: "We encourage retailers to get all the staff together in the same room as soon as possible.

"Those who were in the store during the incident will want to tell those who weren't there exactly what happened. The longer you leave it, the more likely people are going to run through the incident in their minds and may convince themselves of facts that didn't happen."

Cougar Monitoring's Anton claims that the cost of stolen goods and damages following a robbery is nothing compared with the price of trauma on members of staff. "In comparison to staff costs, broken windows and doors are relatively easy to fix and most costs are covered under insurance anyway. The trauma after a crime is by far the biggest cost to a business."

Wilson believes retailers must support staff following an attack so that everyone has enough time to recover. "Some people can get over an incident very quickly," he says, "whereas for others it can take weeks, months and even years. Some staff feel they cannot return to work or don't want to return to work, so communication and talking about the incident is the best way to make staff feel safe."

Daniel is well aware of the trauma that can follow a robbery so acted quickly to reassure staff after Thornton's Budgens was targeted.

He says: "I held a meeting the very next morning. I invited all the team leaders and managers into the canteen so we had a skeleton shift running the store for those 40 to 50 minutes.

"We then sat in an oval and everyone had the chance to go through their reaction to what happened. Then the system kicked in and we had counsellors come in to speak to those affected."

In the months following the incident, the Belsize Park store has held more drills to make sure the store is better prepared. The store now has a system in place where staff are alerted over the tannoy that there is a robbery in progress using the term 'Code Red'. The security team will immediately block all exits and staff will alert the authorities while trying to keep themselves and customers as safe as possible.

Daniel has also changed the store's rotas so that there is always a sufficient number of security staff on shift.

The threat of robbery may never go away, but retailers can be prepared, protecting their stock and their staff.

Says Anton: "Staff are the most important asset for retailers. In many cases staff are family members - you can't put a price on protecting them."
Back-up at the ready with interactive CCTV system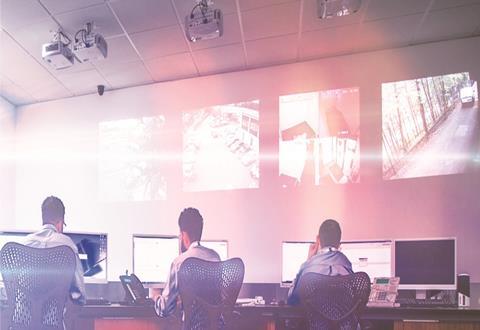 Security firm Cougar Monitoring introduced its Pro-Active Response CCTV system at this year's National Convenience Show.
The system provides instant support to retailers in the event of any crime being spotted.
Once the personal attack button has been pressed the CCTV operator can not only monitor the incident and alert the police, but can talk directly to the perpetrator through a speaker. In this way, they will become aware they're being watched and may think twice.
Cougar Security will also keep recordings of every incident at its monitoring centre in Birmingham, so that if the original CCTV footage is lost or destroyed, real time evidence of the crime still exists.
Cougar national account manager Gary Anton explains the rationale behind this shift from a reactive to a pro-active response to crime: "The main purpose of the system is to make sure the retailer isn't alone and the criminal is distracted from what they are doing. The store owner is also safe in the knowledge that the authorities have been called.
"The trouble with regular panic buttons is that they are either silent, or trigger an alarm. The alarm is more likely to escalate the situation, and silent buttons mean that the retailer doesn't know if the police have been called."
Cougar says the system can be installed with little disruption in less than a day, during trading hours. It costs £10 a week.