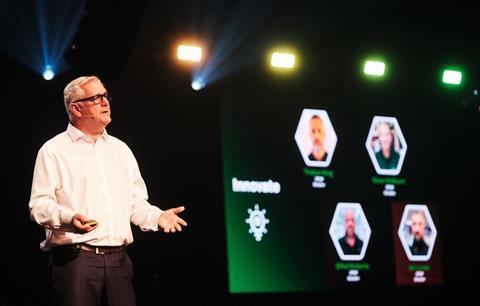 Blakemore Trade Partners has unveiled a new 'stock and sell' scheme for its retailers.
Announced at the Spar Retail Show in Telford earlier this month by commercial director Louis Drake, retailers can increase sales and profit by signing up and implementing a core range of products that will entitle them to receive free stock to the retail value of £10,000 per store, collectively benefiting from a profit injection of more than £2.8 million this financial year.
Also speaking at the show was Spar UK managing director Louise Hoste, who talked about the 'Joy of Living Locally' brand positioning; Spar international managing director Tobias Wasmuht who highlighted how all opportunities will be underpinned by the strength of the SPAR brand and A.F. Blakemore Group CEO Jerry Marwood who praised the retailer network of the group.
Marwood said: "I believe we run our business and our business partnerships in a way that's different from our competitors.
"Spar is a truly independent brand working solely to drive sales for independent retailers. We're here only to support your desire to be a successful independent business.
"If ever there was a time to be part of a collective like SPAR, then it's now. All over the UK and all over the world other Spar retailers are working through problems and sharing solutions – there is no other network like this."
Retailer presentations included Dean Holborn and Elfed Roberts who spoke about the tangible business benefits of retailers getting involved in their local communities while Ian Lewis discussed the Spar Market format introduced at his Minster Lovell store and Tristan King enthused delegates with how he has developed his own food-to-go brand, Kings Kitchen, with support from the Blakemore team.