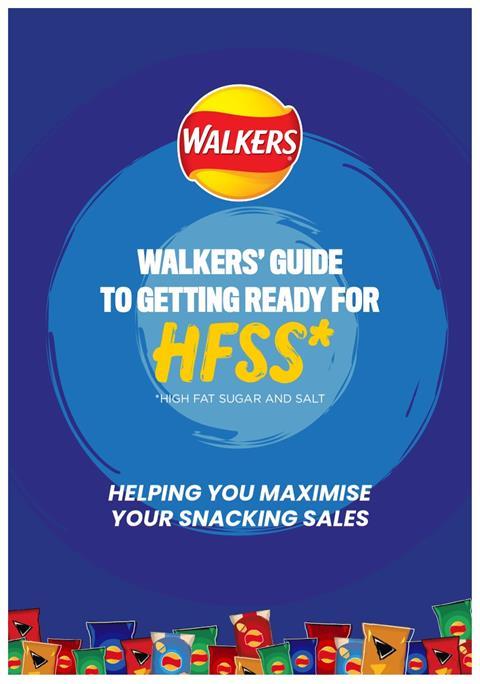 Ahead of the new HFSS (high fat, sugar and salt) legislation coming into effect this October in England, Walkers has issued a new digital HFSS guide to assist independent and symbol retailers in navigating the implications for the savoury snacks category.
The guidance is written in two stages to show which stores will be impacted and what changes need to be made, firstly, when the location restrictions come into play in October 2022, and secondly, when the promotional restrictions come into play in October 2023. "This is the first time we've done something like this," said Kirsten Reid, impulse category management channel lead for PepsiCo UK. "We'll try and improve it as we go, but we wanted to get something out there given its [the first part of the legislation is] two months away."
The guide will become available in different languages, including Punjabi and Hindi – for greater inclusivity.
In support of the guide, Walkers will be releasing a 'Walkers Hub' on *shopt – a dedicated area where convenience retailers can access industry-leading content. A crisp display generator tool will be available, retailers can receive bespoke crisp layouts for their shelves, by entering a few simple details about their store and shoppers. Retailers also have the opportunity to earn 'rewards' for stocking specific Walkers Hero 25 products (Walkers' list of best-selling SKUs) and merchandising display support via the *shopt app.
In addition, Walkers will be applying clear labelling to product cases, offering guidance to retailers on whether the product is non-HFSS and where best to position in-store. The outlined approach aims to drive awareness of the legislation and clear up any confusion on the specifics. It will also help retailers navigate the upcoming changes in regulations and continue to grow savoury snacking sales.
Reid told Convenience Store: "We were all looking at the legislation, trying to understand it. We knew from research there had been confusion over - 'Does this affect me? When's it all coming in?' - so we wanted to provide something that helps shop owners to navigate that. It's not designed to tell retailers what the legislation is - there's a light touch, which reiterates what's already out there and there are links in the guide to the ACS and to the government website."
Her understanding of the HFSS legislation is that all symbol groups will be impacted by the promotional restrictions. "We know from conversations we've had with various symbol groups, they all do see it slightly differently and each of them have come up with a slightly different answer, so we have interpreted the legislation to the letter of the law," she said. "By the way that the legislation is written, by default if you're a member of a symbol group would mean that you have greater than 50 employees. We feel that we have to be conservative. Symbol retailers might see that differently in terms of their franchisor/franchisee agreements. For me, it is very clear the government wants this to reach as many stores as possible and I think that's how we should all be approaching it."
She explained how the clickable, interactive guide would help retailers prepare for the regulations: "Our digital guide will focus on snacking growth strategies and includes dos and don'ts and handy visuals too. Firstly, concentrating on maintaining space of best-selling products in the main fixture.
"Secondly, maximising off-fixture displays in high traffic areas around the store which will help drive impulse purchases. And finally, supplementing both with reformulated or new non-HFSS products from well-known and trusted brands that deliver on taste and health needs. We also recognise the implications of the new regulations and the associated complexities and are therefore heavily investing in our teams to ensure that they are well equipped to provide tailored assistance.
Reid continued: "Here at Walkers, we will continue to offer a balanced portfolio of crisps and snacks that don't compromise on taste, retaining focus on our much loved and best-selling product ranges such as Walkers, Walkers MAX, Quavers, Cheetos, Wotsits and Doritos. To complement this, we've introduced several taste-led non-HFSS lines which we believe will work best in this channel, including: Walkers Oven Baked, Walkers MAX Strong, PopWorks, and Walkers 45% less salt*."
Within the convenience channel, crisps and snacks have continued to be a critical sales driver, with growth of 2.4% over the last 5 years (AC Nielsen), states PepsiCo. The firm claims that savoury snacks category is well-positioned to adapt to the changing consumer landscape and to the HFSS regulations.
Earlier this year, Walkers set an ambitious goal that by 2025, half of its snacks sales will come from products that are non-HFSS or from products sold in portions of 100 calories or less. A wide-ranging NPD pipeline has already seen the launch of Walkers 45% Less Salt and non- HFSS Walkers MAX Hot Sauce and Fiery Prawn Cocktail, which will be followed by numerous other innovations and reformulations to satisfy evolving consumer demands.