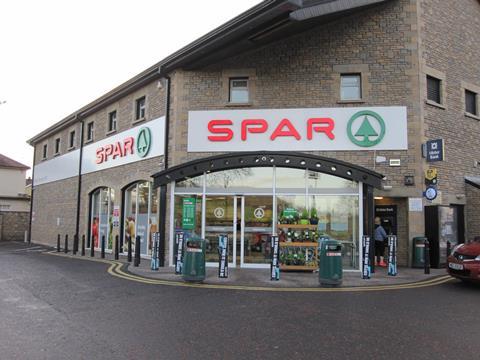 Stephen and Donna Mullan were, in their own words, "amazed" to be named Convenience Retailers of the Year as well as Best Independent Store at this year's Convenience Retail Awards. They have devised a thriving c-store in the city of Armagh, based on their own unique knowledge of the local shopper, supplied by Spar and adorned with an array of personal touches to differentiate themselves from other symbol stores in Northern Ireland. Sales at the 2,975sq ft outlet grew 18% in the last quarter of 2016 and now exceed £48,000 per week.
A fresh vision
The shop was built from scratch a decade ago to match the Mullans' retail vision, but the early version of the store featured grab-and-go convenience items at the front and gave high prominence to special offers.
Stephen and Donna realised fresh sales were rising and also wanted to increase the emphasis on top-up shopping, so they flipped the store layout to put fresh food and meal solutions first in flow.
The abundant fruit and veg display is unmissable, and there is plenty of room to browse. Potatoes are grown locally so the provenance, presentation and quality have to be perfect.
More specialist tastes are catered for, too. With plenty of keen sportspeople and gym enthusiasts in the city, protein and nutrition lines are worth a separate stand.
Ready to eat
As well as a hot and cold deli section in store, the adjacent kitchen makes a huge range of meals and prepared food items for customers to take home and eat straight away.
Soups, stews, pies, curries, and Oriental dishes are all local favourites, along with meal accompaniments such as coleslaw.
Dishes carry the Mullan's brand name to enhance the home-made appeal.
Fresh food sales have been in double-digit growth since the reconfiguration of the store, and now make up 55% of total shop turnover.
Personal touches
About 50 Spar stores in Northern Ireland have a Quinn's luxury gelato offer in-store, but the Mullans went a step further by tiling a corner of the shop to create an ice cream parlour effect.
Wooden units have been introduced in particular departments, such as bakery, in order to present a warmer feel than the standard fixtures and fittings.
The hot and cold deli counters start with breakfast baps, porridge or a full fry-up from 6.30am, with sandwiches, salads, kebabs, goujons, curries and hot melts taking over at lunchtime.
The Mullans plan to extend the kitchen area to enhance the selection of food to go and prepared meals even further in future.
Customer engagement
The Mullans are constantly refining their offer based on conversations with customers. Coffee does well – about 950 cups per week – but the associated doughnuts and pastries were slow to move. Feedback was that shoppers felt "guilty" about buying them, so a selection of cereal bars was added to the unit.
The store plays a full part in community life. It is the main sponsor for the next-door primary school's sports day, supplying water and goodie bags, and provides goods for local nursing homes and hospices, as well as raising money for a defibrillator.