During the spring of 2015, husband and wife team Jai and Mandeep Singh bought a neighbouring unit and doubled the size of their Sheffield store to 1,450sq ft. They also switched symbols, from Premier to Go Local Extra. The couple have taken great care with design and product range to ensure they provide customers with a unique offering. Sales are currently £20,000 a week (excluding services), up from £10,000 pre-refit. More categories have been added and basket spend has increased dramatically from £4 to £6.50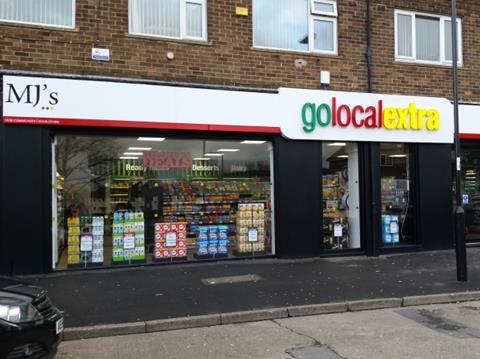 Smart design
Wood-effect flooring gives the store a premium edge.
Bespoke category signage is colour co-ordinated to complement different areas. Blue text on a white wood decking background highlights chilled drinks and food to go, and white text on a grass textured background signposts dairy.
The couple installed and customised a £2,000 overhead tobacco gantry, painting it black and fronting it with decking in keeping with the rest of the store.
The store, which was previously known as Singh's Premier, has been rebranded MJ's and now boasts its own logo, which is used throughout the store.
Value proposition
A large pound zone features everything from batteries to colouring pens, and hair colour to candles. Mandeep reckons customers like coming in just to see what's new to the range and as a result the couple are selling £650-worth a month.
In addition, pound zones are situated on gondola ends at the back of the store, next to an ATM, meaning customers can bargain hunt while queuing for the cash machine.
Embracing spirits
Before the refit the store had a small display of spirits featuring only key lines such as whisky and vodka. The range has now been increased by 100% with an impressive selection of unusual and exciting products such as Ciroc vodka in five different flavours and Smirnoff Gold.
Sales are up 18-20% and Jai claims that MJ's is now a destination store for the Big Night In market.
Local sourcing
The couple started off selling 20 baps from Ecclesfield firm Mobri bakery. They now sell 150 on a week day and 200 on Fridays and Saturdays. They also source baps, loaves and cream cakes from Barnsley bakery Potts.
Pasties and savouries are sourced from nearby Cannon Hall Farm, as is the fresh meat range. Fresh meat sales were just £60 a week in the old store and now the firm stocks chicken, steak and different sausage varieties, all of which have a 25% mark-up. Sales are £300-£400 a week.
The local fresh produce supplier delivers seasonal fruit and veg. They are currently selling £300-worth, with a 50% mark-up.
Ales are supplied by Bradfield Brewery and are exclusive to the impulse channel. The ales retail from just £1 a bottle.
Window displays
Jai and Mandeep went against the advice of their symbol group and opted to use the store's windows for seasonal displays and stack promotions, rather than using the space for shelving.
Keeping the windows largely clear allows more light into the store and enables passers-by to see what's available.
A media screen in the store window keeps customers up to date with the store's community work, along with the latest in-store promotions and news.