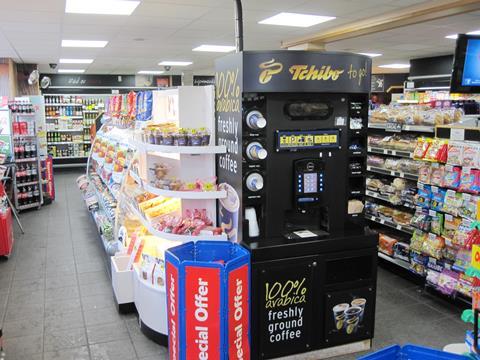 Convenience Retailer of the Year McLeish, Inverurie in Aberdeenshire, is at the top of its game. Owner Scott Graham has centred the 1,500sq ft store around an all-encompassing food-to-go offer, which dovetails with a grocery range abundant in fresh and local products. He works closely with national and local suppliers, and regularly innovates to maximise sales (up 13% year on year to £30,000). The store is beautifully presented, while staff are fully engaged with the local community. If a certain beer brand did convenience stores…
Local
About 50% of products are local, complementing main ambient supplier Filshill.
Scott recently introduced a local cake and biscuit fixture, Nicolas Homebakes, which turns over £450 per week.
The local butcher, Bert Fowlie, supplies meat for ready meals, pies and hot food to go. In just 18 months sales have gone from zero to £2,000 a week.
Working with a local baker, Scott is set to introduce an in-store bakery at the front of store.
Fruit and veg is also sourced locally.
He also started sourcing from Kerry Fresh last year to improve availability. Chilled sales increased as a result.
CTN and alcohol
Scott has introduced an overhead gantry, and tobacco sales have since increased by 2%. A wide range of malts and gins are now displayed in place of the gantry, following advice from Maxxium UK, and spirits sales have increased by 17% due to an improved range including more fractionals and a wider selection of gins.
Scott has moved magazines to the back of store, with no impact on sales.
An American fixture complements the confectionery range.
Beers and wines sit at the back of the store.
Supplier engagement
Scott works closely with national and local suppliers, including Cuisine de France, which installed a new display solution turning over £450 per week.
A standalone Kellogg's breakfast fixture is positioned next to a small seating area.
He has also participated in Heineken's star retailer programme, which has resulted in an 8% category sales uplift.
Last year Scott sat on the HIM retailer panel, prompting him to successfully remerchandise some of the ambient grocery area.
Food to go
All food-to-go products are made on the premises. On average the store makes 200 sandwiches, 60 rolls, 
40 wraps and 50 salad boxes a day.
Hot food to go includes breakfast rolls, curries, macaroni and chilli for lunchtime.
The store attracts a large customer base of workmen in the morning and school children mid-morning and lunchtime. It also provides catering to offices.
Chilled food to go includes a wide range of ready meals including pizzas and local ready meals.
Lunchtime meal deals include sandwiches and salads made in store, locally-made pies and desserts.
Food to go represents 15% of the business, generating a 60% margin.
Innovation
Scott has signed up to the Cornershop App, and the store has an active Facebook page with 500-600 followers, and engages with customers on Twitter.
Participation in the Scottish healthy eating initiative 'Eat Better, Feel Better' has seen a 30-40% uplift in fruit and veg sales. Scott works alongside the SGF as a consultant for the scheme, which has been "hugely successful".
Following a full audit of the store through Zero Waste Scotland, Scott introduced LED lighting last year, saving £330 a month.
For speed of service customers can pay through Apple Pay or contactless.