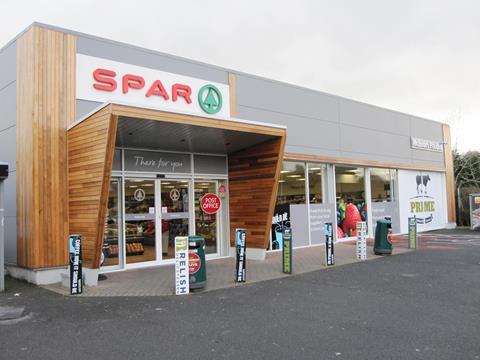 McBride's Spar in Sligo Road, Enniskillen, has been reborn in a food hall format as the perfect showcase for great-quality fresh and chilled food, resulting in it being named Chilled Food Retailer of the Year at the recent Convenience Retail Awards. Pride of place within the 4,200sq ft site goes to the new butchery counter with fresh meat sold under McBride's own Prime label and fresh deli foods sold under the Relish brand. Store manager Damian Wardman (left) and owner Peter McBride took C-Store on a tour.
Best Chilled Food Retailer
Innovation, particularly through the creation of own brands Prime and Relish, while operating under the discipline of the Spar fascia, impressed the judges for this special award. An excellent store layout with significant space dedicated to chilled, along with an exceptionally well-presented butchers, fishmongers and food-to-go area all added to the appeal, while a strong mix of brands and own label, with promotions that shout value and encourage weight of purchase, clinched the title.
Sponsored by Müller
Butchery mastered
The site has been trading successfully for six years, but was remodelled last year in a food-hall style including a wooden façade to enhance its fresh food credentials.
An additional 1,350sq ft of space was added, all of it given over to fresh food with the creation of a butchery counter and new deli.
The extra-wide first aisle encourages browsing among shoppers looking for the best food available or inspiration for tonight's tea.
An eye-catching fresh fish display sits alongside the fresh meat counter, which includes delicious marinated items as well as fresh cuts.
Head butcher Paddy is in charge of the butchery operation, with the Sligo Road store also acting as a hub to supply the other sites in the McBride's estate.
Winning chilling
The chilled range combines leading brands, Spar products and McBride's own Prime and Relish items.
Cuts of meat and meal accompaniments prepared in-store sell well as multibuys from dedicated wall and spider fridges. Overall, Prime meat is worth £6,000 a week to the store, nearly 14% of total sales.
In the run-up to Christmas, the store sold 147 turkeys and two tonnes of gammon.
Produce sales are also high at £4,000 per week, meaning that fresh participation across the store as a whole is 53%.
Customer care
Value-seeking shoppers are not ignored either, with deals piled high on aisle ends and in the queuing area.
Customer comfort is a key principle of the McBride's business, with wide aisles to make shopping as easy as possible and to maximise visibility of products. The store will carry out assisted shops for elderly and infirm customers on request.
The Post Office counter is located at the corner of the store, at the end of the run of kiosk checkouts. The counter section includes a built-in shelf for added privacy and convenience, which is enhanced by the free ATM. A scene from nearby Enniskillen Castle forms the backdrop.
Eggs, predominantly from local suppliers, are sold from this hen house-style fixture.
Good to go
McBride's uses the Relish brand to highlight its fresh deli and food-to-go selection.
The company leases a forecourt store, also trading under Spar, directly opposite the Sligo Road food hall and the two sites have distinct but complementary offers.
As a result, the forecourt provides traditional hot and cold food to go with an in-store seating area, while the food hall has a more sophisticated meal solution offer of premium pies, en croute dishes, salads and noodles, all ready to take away.
Rotisserie chicken provides an additional hot and ready-to-eat mealtime option for hungry shoppers.