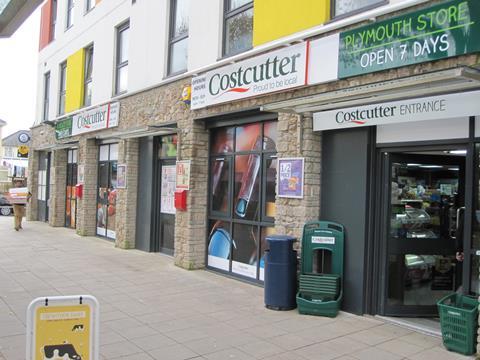 In 2015 Nimal Navaratnarajah invested nearly £130,000 in transforming an empty unit into a modern Costcutter just outside Plymouth city centre. Nimal and store manager Heidi Flower pride themselves on the store's community engagement and the staff's dedication to its customers, many of whom are elderly or struggling financially. Such commitment breeds loyalty and has helped drive year-on-year sales from about £18,500 a week to nearly £21,000 - despite a nearby Morrisons, Co-op and Premier. Sales 
are expected to increase further when 500 nearby homes are built.
Food to go and fresh
Chilled and fruit and veg are selling well. The store sells local milk and Heidi and Nimal are on the lookout for a decent local fruit and veg supplier
Hot food to go is particularly popular, especially at the "10am workman time" and 1pm, reports Heidi
The range includes pasties, sausage rolls, bacon and sausage baps, breakfast baps and slices. The store also prepares its own baguettes and sandwiches
The store doesn't offer coffee because they are set to take over the café next door, so Nimal wants the two sites to complement each other. Heidi says they are thinking about introducing a Subway in store.
Meeting demand
Alcohol and confectionery are top-selling categories. The wide range of novelty sweets contribute to £200 a day in confectionery sales
The staff are the store's biggest asset, enthuses Nimal. "They make sure every customer is looked after. They're key to the store's success."
"We stock as many pricemarked packs as possible because people recognise them as good value products," says Heidi. "We 
sell a lot of the Independent own brand frozen vegetables and chips."