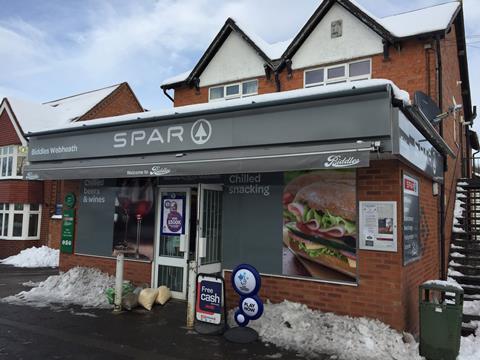 Simon Biddle recently switched his 1,000sq ft Redditch Biddles store from Simply Fresh to Spar, in a joint venture with Spar distributor AF Blakemore. Although he was happy with Simply Fresh, his concerns over Palmer & Harvey deliveries prompted the move, which took place a few weeks before the wholesaler's collapse in November. Simon retains his independence and continues to stock his homemade pies and locally-sourced fruit & veg. Sales rose from the first week and Simon is targeting £25,000 a week.
The product mix
Simon sources about 95% of fruit & veg from a wholesale market in Birmingham. A small proportion comes from local growers.
Fruit & veg is accommodated in wicker baskets at the front of store.
A new chiller sits at the back of store, housing sandwiches made in the kitchen behind the store. About 120 sandwiches sell a day.
The full-time chef also makes pizzas and the renowned Biddles steak & ale pies, of which more than 100 sell a week.
Locally-sourced meat is sold packaged under the Biddles brand. Some pre-packed Spar meat products are also on sale, such as Spar rack of ribs.
Other local lines include the recently-introduced Jacky's Pantry condiments.
A new look
New thinner chillers have allowed Simon to create more space in store.
The off licence includes chilled white wines and the new range of Spar own brand wines, "which are selling really well".
An extensive range of ales is also on sale.
The store shouts about its value, especially in ambient. "We've gone big on the promotional signage since we've gone to Spar," says Simon.
A self-serve coffee machine is planned for the space behind the sandwich chiller.